09.11.16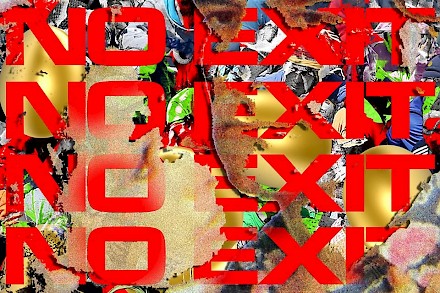 NO EXIT (2016)
Design Displacement Group presents a special election-day screening of their opera NO EXIT (2016). Join us Wednesday 9 November from 18:00 to 19:30. Everybody welcome!
For NO EXIT (2016) the Design Displacement Group has re-appropriated the narrative format of the opera, exploring theatrics and performative requirements of a design practice. As a basis for this generative multi-screen project, DDG explores the seminal text 'No Exit' by Jean-Paul Sartre in the light of Brexit and a wider political landscape of fracture in the Eurozone. The opera is constructed through an algorithmically coded system with generated music in collaboration with Los Angeles minimalist duo OOFJ. Issues around labour conditions, efficiency, isolationism, populism and panic in a political Union no one can practically 'exit' from have an overlap with questions DDG is posing for a post-signature design practice.
Current Van Eyck participants Hannes Bernard & Guido Giglio (Sulsolsal) are members of Design Displacement Group.
Join us Wednesday evening for a screening and discussion, with food & drinks afterwards. 
Location: Werner Mantz Lab, Van Eyck