06.03.15 – 07.03.15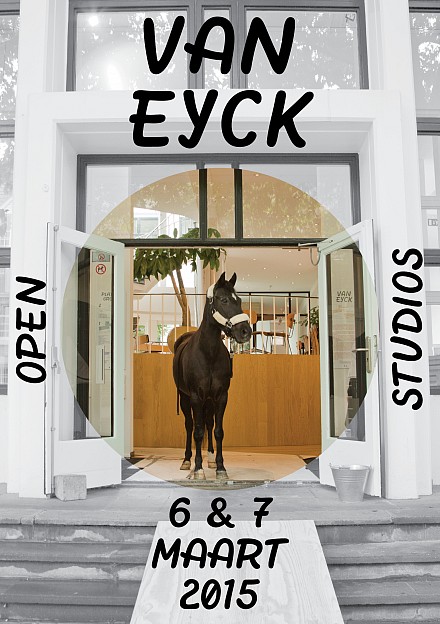 2015
You are very welcome to join us for the Van Eyck Open Studios 2015. Just like last year we are keeping open house to show you with pride and enthusiasm what we have been doing. 40 artists, designers, writers and poets will be presenting their work in their studios, the exhibition spaces and other areas of the Van Eyck. They all have had a one-year stay (or thereabout) at the institute and are very eager to share the results of their residency, which comprises both individual and collaborative work. The many things on display beautifully testify to the stance and possibilities of the Van Eyck. Additionally, the projects of the Van Eyck Mirror and the Hubert Van Eyck Academie are showcased as well as the work of the poets and writers-in-residence and the Van Eyck Collection.
On Thursday 5 and Friday 6 March the academy welcomes invited guest. On Friday evening as of 17:00 (festive opening) and on Saturday 7 March from 10:00 - 17:00 the Van Eyck holds open house for the public at large. 
We are very much looking forward to welcoming you and presenting you a programme that is filled to the brim with presentations, talks and performances!
Participants Open Studios 2015:
Alexis Blake (US)
Andrea di Serego (IT)
Anna Bak  (DK)
Anne Callahan (US)
Anton Stuckardt (DE)
Blaine Western (NZ)
Blas Isasi Gutiérrez (PE)
Cedar Lewisohn (GB)
Conny Karlsson Lundgren (SE)
Dario D'Aronco (IT)
Egemen Demirci (TR)
Elke Uitentuis (NL)
Ellen Feiss (US)
François Dey (CH)
Gregory Polony (CH)
Hana Miletic (HR/BE)
Hyesoo Park (KR)
Ilke Gers (NZ/IE)
Joris Lindhout (NL)
Karisa Senavitis (US)
Katharina Zimmerhackl (DE)
Kym Ward (GB)
Martin La Roche (CL/DE)
Mathew Kneebone (AU)
Matylda Krzykowski (DE/PL)
Niek Hendrix (NL)
Nina Thibo (NL)
Oscar Santillan (EC)
Pádraic E. Moore (IE)
Pieter Paul Pothoven (NL)
Sanne Vaassen (NL)
Stéphanie Saadé (LB)
Sunette Viljoen (ZA)
Toon Fibbe (NL)
Vanessa Hodgkinson (GB)
Zohra Opoku (DE/GH) 
Poet-in-residence
Erik Lindner
Tonnus Oosterhoff
Lieke Marsman 
Writer-in-residence
Niña Wijers
Maartje Wortel
Maurer United Architects