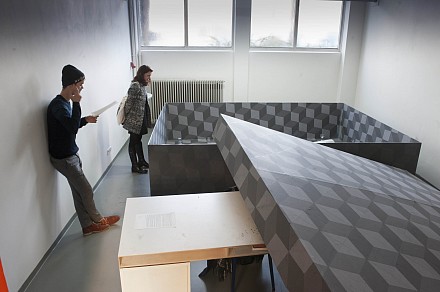 Open Studios 2016 successfully concluded
The Open Studios 2016 were very successfully concluded. We welcomed more than 3,100 visitors, almost double the number compared to last year! The visitors appreciated the open and relaxed atmosphere at the Van Eyck and the variety in works and presentations. Films, video's, photographs, paintings and drawings were on show. Poetry readings and performances were held, bread was being baked, the festive opening ceremony included a speech by Birgit Donker, director Mondriaan Fund followed by a piñata smashing. You could hear the sticky floor in Meri Linna's studio throughout the building, the block of ice by Ruben Castro was, as calculated, completely melted when the last visitor left the academy. 
Most participants conclude their work period at the academy now. The new participants arrive shortly: artists, designers, curators, architects and writers.
From mid April onwards, we will start anew with the participant presentations - this year on Wednesday nights at 17:30.
Follow the public programme on the website and social media.