24.03.17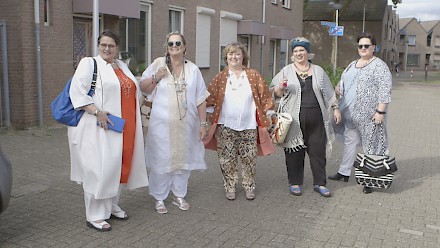 OVER-WEIGHTED
OVER-WEIGHTED  - Interdisciplinair symposium over de (zelf)waarneming van mensen met morbide obesitas
Van Eyck
24 maart 2017
13.30 uur
De Van Eyck organiseert op vrijdag 24 maart het symposium Over-Weighted. De vraag of een geoptimaliseerd uiterlijk kan leiden tot een positievere (zelf)waarneming en een afname van discriminatie van mensen met ernstig overgewicht staat deze dag centraal. Het symposium kent een interdisciplinaire benadering vanuit de kunsten, de mode, de wetenschap en de zorg.
Het symposium sluit het project Over-Weighted af dat in 2016 werd georganiseerd door Van Eyck Mirror – het projectbureau van de Van Eyck en de Hubert Van Eyck Academie, dat de masterclasses, (inter)nationale samenwerkingsprojecten en workshops organiseert voor de Van Eyck.
In samenwerking met jonge ontwerpers werd onderzocht of discriminatie en stigmatisering van volwassenen met obesitas inderdaad plaatsvindt en wat de impact ervan is op hun welzijn. Het project vond plaats tijdens het mode-event Fashionclash in Maastricht en leverde verrassende resultaten op. Op basis van de ervaringen opgedaan in dit project, zal tijdens het symposium samen met diverse gasten worden gereflecteerd op de vraag welke omstandigheden precies bijdragen aan een verbeterd zelfbeeld en een afname van discriminatie van mensen met ernstig overgewicht.
Sprekers zijn onder anderen Daniëlle Bruggeman, lector Mode bij ArtEZ Institute of the Arts, Arnhem, Finally Using Fat, ontwerper Debora Dax en Elke Boes, zorgcoördinator van de Obesitaskliniek in Heerlen.
Geinteresseerden zijn van harte welkom om het symposium bij te wonen.

PROGRAMMA:
13:30 Deuren open
14:00 - 14:15  Openingswoord 
14:15 - 14:45  Lezing door Daniëlle Bruggeman, lector Mode bij ArtEZ Institute of the Arts, Arnhem
14:45 - 15:25  Vertoning film gemaakt tijdens eerste fase van het project 'OverWeighted', incl Q &A
15:30 - 16:45  Nagesprek o.l.v. Bart Cosijn met: Daniëlle Bruggeman, de organisatie Finally Using Fat (Arnhem), die met hun werk oplossingen zoeken voor mensen die geen       'standaard' lichaam hebben, Marie Louise Vernooij, één van de deelnemende vrouwen uit fase 1, Elke Boes, zorgcoördinator van de Obesitaskliniek (Heerlen)
17:00  Plenaire afsluiting
17:00 - 18:30  Workshop (vrijwillige deelname) o.l.v. Debora Dax, ontwerper Design Academy Eindhoven. Soep en brood, gelegenheid om na te praten
Voor meer informatie: rebekka.straetmans@janvaneyck.nl
Partners: Fashionclash, Design Academy Eindhoven, Universiteit Maastricht 
Met dank aan:
de Nederlandse Obesitas vereniging
Bank Giro Loterij Fonds