25.04.19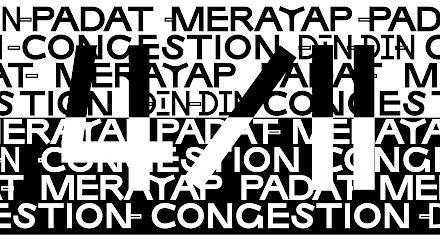 Padat Merayap / Congestion – A Talk with Ferdiansyah Thajib
On April 25 at 14:00 Ferdiansyah Thajib will talk about queer politics and marginalization in Indonesia, shedding light on the decolonial futures of Indonesian Muslim queer. 
Location: Meeting Room
Alternative sexualities and gender expressions have been the target of hostility in Indonesia since 2016. While in the country's recent history sexual and gender minorities were mainly treated with ambivalence, today both elites and general public make use of the acronym "LGBT" to portray minorities as a figure of national menace, consequently representing a postcolonial importation of moral decadence and sexual promiscuity from Western society. Interestingly, proponents of LGBT rights in Indonesia argue that various ethnolocalities across the archipelago have a rich history of same-sex behavior and gender non-conforming expressions before modernity/coloniality exerted their powers. 
Somewhere in all of this, many Indonesian Muslim queer subjectivities are inhabiting the in-betweens of Islamic revivalism, moral and political contestations as well as Indonesian predominantly patriarchal societies; between their spectacularization in media discourse and their erasure in public spaces; between the pre-colonial narratives of "homophobia is unIndonesian" and the postcolonial  "homosexuality in unIndonesian". In this talk, the recent event of anti-queer rhetorics in Indonesia will be addressed through the following questions: Which progressive queer politics can be made in the intersections of religious, local geopolitical, cultural, and class differences? How the political otherwise can be carved out beyond spectacular claims for recognition and liberation? More importantly, what forms of solidarity can be engaged with in the wake of persisting violent marginalization?
FERDIANSYAH THAJIB 
is a PhD Candidate at the Institute for Social and Cultural Anthropology, Freie Universität Berlin. He was also an Associate Scholar at "The Researcher's Affects project", funded by The Volkswagen Foundation. Since 2007, he has been a member of KUNCI Cultural Studies Center, in Yogyakarta, Indonesia. KUNCI is a research collective that focuses on critical knowledge production and sharing through cross-disciplinary encounters, action-research and vernacular education with and across community spaces. His work is situated at the intersections of theory and praxis, with specific research interests on queer modes of endurance and forms of affective entanglement in everyday life. In 2017, Ferdi joined the Institute for Queer Theory, Berlin, mainly as co-initiator of the public event series "When does it become violence?".
PADAT MERAYAP IN-LAB
This talk is organised in the context of the Padat Merayap / Congestion In-Lab 2018/2019 initiated by Van Eyck participant Riksa Afiaty with Karoline Swiezynski.
This long-run series consists of 11 talks with speakers (names and dates to be announced soon) from a multidisciplinary and diverse background, who have developed in their work a variety of practices to discuss and develop strategies, scenarios, models, critical visualisations and commentaries that deal with the discourse of decolonialisation.

​​​​​​​The series is divided into four focus areas:
Institutions: Significance and Speculative Future
The Opposition of Binary
Archive-Making
Object: Value, Transaction, Otherness