10.04.19 – 12.04.19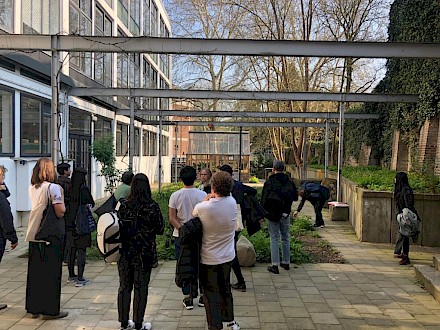 Participants 2019/2020
The Jan van Eyck Academie received some 650 applications for the residencies available in 2019/2020.  We look forward to welcome a very diverse and international group of artists, graphic designers, curators and architects from 10 April onwards.

Alaa Abu Asad (PS), Anna Moreno (ES), Antonio Bermúdez (CO), Asako Iwama (JP), Atelier Brenda (BE), Audrey Large (FR), Dana Venezia (IL/IT), Domenico Mangano & Marieke van Rooy (IT+ NL), Elisa van Joolen (NL), Elise Eeraerts (BE), Ellie Kyungran Heo (KR), Emilija Skarnulyte (LT), Erica Petrillo (IT), Femke de Vries (NL), Giovanni Bellotti (IT), Gökcan Demirkazık (TR), Girls like Us (NL), Joélson Buggilla & Jorge Menna Barreto (BR), Jonathan Castro Alejos (PE), Kent Chan (SG), Lina AlAmoudi (PH/SA), Lotte Reimann (DE), Maiko Jinushi (JP), Marielle Chabal (FR/NO), Marjet Zwaans (NL), Martin Groch (SK), Mat Do (GB/NL), Mehdi-Georges Lahlou (FR/MA), Natasha Marie Llorens (FR/US), Offshore Studio (CH), Parasite 2.0 (IT/BE), Saeeda Saeed (SA), Shana Hoehn (US), Stéphanie Noach (NL), Taraneh Fazeli (US), Tatiana Istomina (RU), Youngeun Sohn (KR).
The writers-in-residence this year will be Laura Broekhuysen (NL) and Nina Polak (NL). The poet-in-residence is Rosa Braber (NL).
To weldome the new group, a public 3-day programme is organized. If you're interested in the programme and would like to meet our participants, you are very welcome to join us:
10 April: film screening Heroes 
11 April: film screening Donna Haraway: Story Telling for Earthly Survival
12 April: Museum Night Maastricht - the Joyride Show