25.10.16 – 27.10.16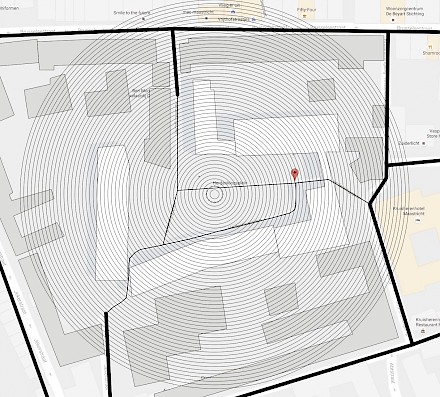 Performing Space
Performing Space organiseert 2 artistieke interventies op 'passantenpleinen' in de binnenstad van Maastricht op 25, 26 en 27 oktober
Op het Herdenkingsplein brengt Jolien Naeyaert haar interventie blijven. 
Als architect en kunstenaar zoekt zij naar methodieken om ruimtes op een actieve manier te benaderen. Het werkelijk aanwezig zijn op een plek en fysiek onderzoeken hoe die plek werkt, is een belangrijk aspect in haar werk. Naeyaert creëert door het plaatsen van stoelen een geometrie van concentrische cirkels die het plein tot voorbij zijn grenzen vult, gericht naar een middelpunt dat 'leeg' blijft. Hierbinnen benadert zij actief de ruimte door het uitvoeren van een reeks bewegingen.
Passanten worden uitgenodigd om plaats te nemen, te ervaren, bezinnen, herdenken of simpelweg even te blijven om zo de openbare ruimte op een andere manier te beleven.
Herdenkingsplein: 25 oktober t/m 27 oktober tussen 9-17 uur
Op de Ruiterij wordt door choreograaf Benjamin Vandewalle en dramaturge Ruth Mariën gewerkt rond het gegeven dat dit plein een weinig beklijvende doorgangsplaats is voor fietsers, wandelaars en gemotoriseerd verkeer. Het duo zal in het project Tracking Trace drie dagen lang deze gebruikerssporen natekenen met krijt en de Ruiterij tijdelijk kleuren. De toevallige voorbijganger wordt onbewust deelnemer in een nieuwe choreografie die visualiseert hoe de openbare ruimte wordt gebruikt.
Mariën en Vandewalle bieden op deze manier een nieuwe 'point of view' waardoor je als toeschouwer/toevallige passant een andere blik op de (alledaagse) werkelijkheid werpt. Een typerende werkwijze voor Vandewalle.
Ruiterij: 25 t/m 27 oktober tussen 12-18 uur
Performing Space is een platform voor de programmering van de openbare ruimte. Het biedt vanuit beeldende kunst, theater en architectuur nieuwe perspectieven op de stedelijke context door makers in het openbaar te laten experimenteren en reflecteren op de publieke ruimte. Een initiatief van Stichting SoAP en Van Eyck Mirror – het projectbureau van de Van Eyck Academie – in samenwerking met Studio Stad en de Academie van Bouwkunst Maastricht.