03.11.15 – 20.11.15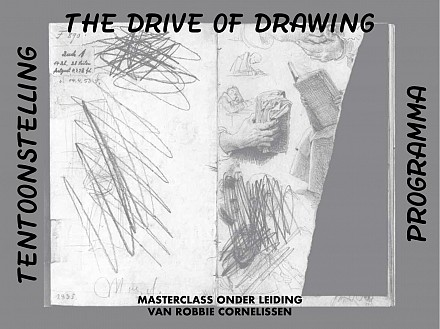 The Drive of Drawing
Masterclass THE DRIVE OF DRAWING
Led by Robbie Cornelissen 
30 October – 6 November 2015
Public programme: 3 – 6 November
Exhibition: 7 – 20 November
Alexander Rodchenko wrote: Only the line can tell us what happened. This will be researched and discussed by doing during this master class and will be the topic of the public programme: what is drawing, what happens during the act of drawing and what does it mean? Is drawing what a child once said: A drawing is a line 'around a think'?  
The Drive of Drawing is the first in a series of 10 master classes organized by the Hubert van Eyck Academie, supported by the Mondriaan fund. This master class immerses 12 participating artists in the world of drawing, so that they can return to their individual studios armed with new insights and experiences.
Master classes to come are The Drive of Performing and The Drive of Painting.
You are most welcome to attend the public programme of The Drive of Drawing:
Tuesday 3 November 20:00
Drawing Experiences. Six artists each talk for 20 minutes about their work and what drawing means to them. With: Robbie Cornelissen, Florette Dijkstra, Arno Kramer, Marc Nagtzaam, Erik Odijk, Stijn Peeters (in Dutch) 
Thursday 5 November 20:00
Drawing: meaning, process and critique, lecture by Deanna Petherbridge, artist and author of The Primacy of Drawing, the all-encompassing book on drawing. In her lecture she will elaborate on the process of drawing as a way of visually discovering and thinking. (In English).
Friday 6 November
15:00 Public class The Drive of Drawing in the exhibition space of the Van Eyck. Marc Nagtzaam, Erik Odijk, Robbie Cornelissen and the artists themselves will discuss the work of the participating artists of the master class. For everyone who would like to understand the language of drawing. (In Dutch)
17:00: opening The Drive of Drawing. Exhibition of the results of the master class and earlier work by the participating artists.   
Participants master class:
Arike Gill
Bas Ketelaars
Erik-Jan van der Schuur
Femke Gerestein
Gerbrand Burger
Jeroen Paalvast
Kim Habers
Lenneke van der Goot
Marie van Vollenhoven
Matilde Everaert
Susanna Inglada
Tijs van Bakel