18.10.18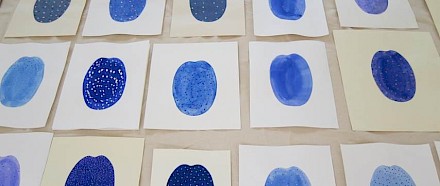 Reading Group: Religion and Magic deel 2
We are pleased to invite you to our 11th Reading Group on the 18th of October at 18.00 at the Jac. P. Thijsse Lab,  accompanied by our usual snacks and drinks. This next session is still part of our series on Religion and Magic. We will zoom into the topic of 'Reality/Unreality'. 
They said, 'You have a blue guitar 
You do not play things as they are.'
The man replied, 'Things as they are
Are changed upon the blue guitar.'
And they said then, 'But play, you must,
A tune beyond us, yet ourselves,
A tune upon the blue guitar
Of things exactly as they are.'
I cannot bring a world quite round, 
Although I patch it as I can.
I sing a hero's head, large eye
And bearded bronze, but not a man,
Although I patch him as I can
And reach through him almost to man. 
 
W. Stevens, The Man with the Blue Guitar in Wallace Stevens. London: Faber and Faber 2008. 

We will be reading and discussing the Introduction chapter of Federico Campagna's 'Technic and Magic, the construction of reality' as well as a section of Mina Cheong's book 'Shamanism + Cyberspace.' You may find both fragments hyperlinked attached. Co-hosts for the evening are Andrea Canepa and Elisa Strinna. As ever, we look forward to talking and reading with you. Please let us know you're planning to attend by emailing: yasmine.ostendorf@janvaneyck.nl
Image: Saskia Janssen. Diamonds in the Sky. Installation of Tantric meditation drawings made together with the patients of psychiatric hospital Altrecht, Den Dolder during Saskia Janssen's residency at Het Vijfde Seizoen, an artist residency in a psychiatric institution.