11.09.14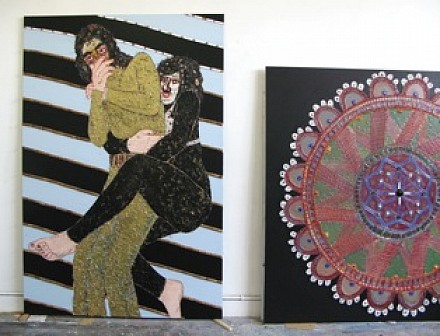 Rik Meijers, Lieke Marsman
Artist Rik Meijers, former participant at the Jan van Eyck Academie, presents his works and ideas on Thursday 11 September at 5:30 p.m. in the auditorium of the Van Eyck. Subsequently, our new poet-in-residence Lieke Marsman will present her work and plans.
As of 1 September Lieke Marsman will be residing and working here for one month. Lieke Marsman debuted in 2010 with the volume Wat ik mijzelf graag voorhoud (What I Like to Point out to Myself). In 2014 her second volume of poetry came out, De eerste letter (The First Letter). Her first volume of poetry was awarded the C.Buddingh' Prize and the Lucy B. en C.W. van der Hoogt Prize. Marsman's poems are visual, both serious and playful and smoothly run from inner to outer world. Marsman's residency was made possible with the support of the Dutch Foundation for Literature.
About Rik Meijers' work:
'With an eye for the extreme, and an aesthetic sensibility formed in the underbelly of pop and underground culture, Rik Meijers paints portraits of imaginary figures from the fringes of society. He portrays his post-punk subjects with reverence, imbuing them with a dignity they are not normally accorded in contemporary society. Still Meijers does not liberate these outsiders from hell, but rather brings his viewer deep into the spirit of the world they inhabit. He uses unorthodox materials like bottle caps, wax, tar, feathers, corks, glitter, shards of glass, beads and other materials. He applies a layer of lacquer to his imagination, he cuts and pastes, and he tars his roof.'
At around 7:00 p.m. there's dinner for € 6,- at the Van Eyck café-restaurant. Please reserve your seat before Wednesday 2:00 p.m. via Jeffrey Kuckelkorn: t: 06.51 09 86 19 / e: kuckelko@xs4all.nl
You are most welcome to join!
More info: www.rikmeijers.com  / www.gerhardhofland.com