15.08.17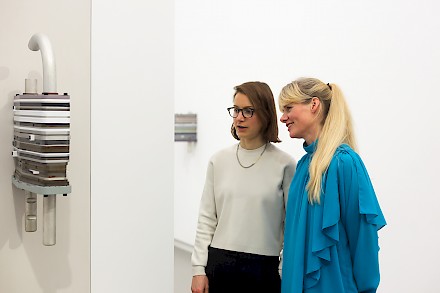 Roos Gortzak
On 15 August at 16:30 Roos Gortzak, director of the Vleeshal in Middelburg, will give a talk at the Van Eyck.
All welcome to join
​Location: Van Eyck auditorium
After she finished her Art History study in Amsterdam, Roos Gortzak (1973) became an intern at the Museum of Modern Art in New York. Afterwards she moved to London to study Curating Contemporary Art at the Royal College of Art. Back in the Netherlands, she worked at CASCO in Utrecht and the Annet Gelink Gallery, where she curated the project space The Bakery in 2003. She showed artists like Becky Beasly, Armando Andrade Tudela and Friedrich Kunath, who were at the start of their careers back then.
From 2004 until 2007 she worked independently. As a curator, she was responsible for a project at the Biennale of Puerto Rico (2004) and the exhibition Tropical Abstraction in Stedelijk Museum Bureau Amsterdam (2005). As a critic, she wrote for Metropolis M, ArtReview and the Dutch newspaper De Volkskrant. In 2007, she moved to Basel to work at the Kunsthalle Basel. Here Gortzak worked on many exhibitions, projects and publications until she moved to Karlsruhe in 2012 and started to work independently again. In 2014, she curated the group exhibition ''What Were You Expecting, Mr. Milquetoast, a Plot?'' (with Vittorio Brodmann, Calla Henkel & Max Pitegoff, Sanya Kantarovsky, Liz Magic Laser and Ola Vasiljeva) for the Badischer Kunstverein in Karlsruhe. In September 2014, her festival ''What Happens in Offenbach Stays in Offenbach'' took place with 40 students of different (theater, dance, art and music) academies, from Frankfurt and surroundings, participating in the festival. Since 2014 Roos Gortzak is the director of the Vleeshal in Middelburg (NL), where she made solo exhibitions with Cally Spooner, Ola Vasiljeva, Simone Forti, and Melissa Gordon. And the group exhibition Survival Guides for Ballroom Dancers, Renovators, Softball Moms, Working Parents and Troubled Folk in General, with Moyra Davey, Martin Kohout, Katja Novitskova, Laure Prouvost and Jay Tan.
Photo Shinji Otani