16.06.16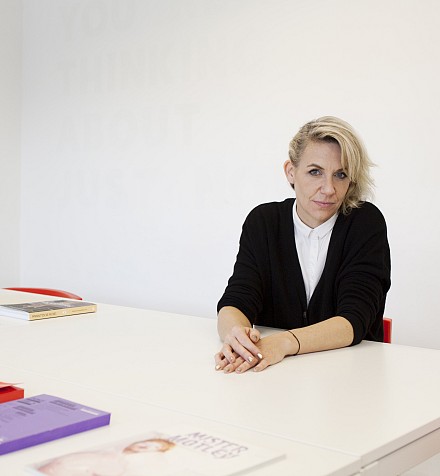 Roosje Klap
Van Eyck advisor Roosje Klap gives a presentation on Thursday 16 June at 12:30 in the auditorium.
All welcome to join.
Roosje Klap (1973, Amsterdam, The Netherlands) owns a studio for visual communication, mainly graphic design and typography, which she has set up after her Graphic Design studies at the Gerrit Rietveld Academy in Amsterdam. The studio researches the experimental boundaries of custom fit design, peculiar yet collaborative. With Roosje Klap a typeface can be unreadable, a book can turn out to be a sculpture and a stamp can become a drawing-by-numbers-drawing: she has a strong affection for unorthodox type design. Many of her projects involve close collaboration with specialists from different cultural backgrounds, such as artists, curators, architects, type designers and writers. 
Roosje Klap mainly works in the cultural field: museums, galleries, art publishers and artists. She designed two stampseries for PostNL as well as the new 2 euro coin for the Netherlands. For her design of the 'Encyclopedia of Fictional Artists' and for her 'Rijksakademie Annual Report 2011' she received a European Design Award. Together with Niels Schrader, Klap is head of the Graphic Design Department at the Royal Academy of Art (KABK) in The Hague. She initiated the design collective Design Displacement Group.

Online links:
www.designdisplacementgroup.com
Dutch Profiles (small documentary)
www.facebook.com/roosjeklap
Twitter: #roosjeklap