16.12.15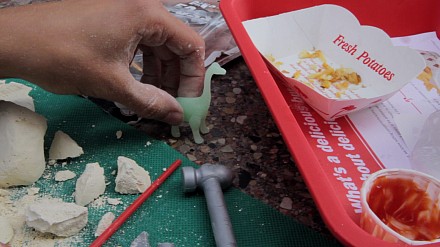 SCREEN MATTER - This Unwieldy Object, Anna Zett
Screen Matter is a moving image programme organized by Van Eyck participants Alessandro Bertelle, Daniel Jacoby, Graham Kelly, Urok Shirhan and Beny Wagner. Screenings take place at the Lumière Cinema. 
On Wednesday 16th December at 19:30 Berlin based artist Anna Zett presents her essay film This Unwieldy Object. The screening is followed by a conversation between the filmmaker and researcher, curator and writer Julian Ross (in English).
In the essay film This Unwieldy Object the animated dinosaurs of Hollywood cinema meet the petrified ghosts of colonial science. You follow the protagonist on a road trip into the dusty heart of the USA, where fossil traders, sculptors and paleontologists are trying to reconstruct the plot of natural history. But the more experts and entrepreneurs she talks to, the more obscure their projects appear. As the protagonist gets carried away by her own theories, the screen itself turns into a virtual dig site for unwieldy objects between science and fiction, trauma and entertainment, the remote past and the near future. 
Anna Zett makes videos, writes texts and performs experiments that deal with the tragicomedy of science and technology. With a background in philosophy and academic research she is now working across the disciplines of cinema, radio, drama and dance. Playfully engaged with the afterworlds and underworlds of modernity, her artistic practice tries to rely on voluntary vulnerability as much as it relies on historical inquiry and an experimental setup. She was born in Leipzig in 1983, lives in Berlin and shows her work mostly elsewhere. Currently she is presenting new work in her solo showCircuit Training at Banner Repeater, London, open until the end of January. Throughout december her film This Unwieldy Object is on view in a group show at Transmission Gallery, Glasgow.
Julian Ross is a researcher, curator and writer. He is a Leverhulme Postdoctoral Research Fellow at the University of Westminster where he is also a sessional lecturer. He holds a PhD at the University of Leeds on Japanese expanded cinema, a topic on which he is preparing a series for Tate Modern. He has curated film programmes and performances at Anthology Film Archives, Eye Film Institute, Art Cinema OFFoff and Yerba Buena Center for the Arts and has been an assistant curator for programmes at the Museum of Modern Art, Pacific Film Archives and British Film Institute. As a writer, he has published in Sight and Sound, Film Comment and Bomb. He is a member of the short film selection committee at International Film Festival Rotterdam. 
Practical information:
You can buy your tickets (5 euro) at Lumière Cinema on the evening itself or by clicking on this link: 
Wednesday 16 December
19:30 - 21:00
Lumière Cinema
Bogaardenstraat 40b
6211SP Maastricht
For the full programme:
http://screenmatter.non.bz/
Screen Matter is an In-Lab set up by current Van Eyck participants, with the support of Lumière Cinema.