28.11.13 – 31.12.69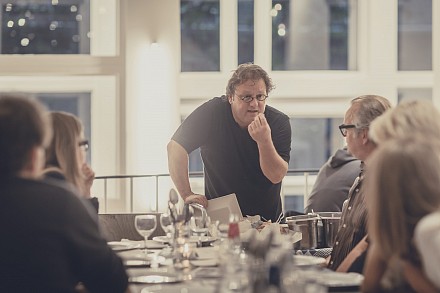 Start café-restaurant Van Eyck
As of 13 September, the new café-restaurant with garden terrace of the Van Eyck will be open to the public. The café-restaurant is the welcoming meeting-place of the Van Eyck open to anyone who is interested in art and design and who wants to join us within an international artistic environment, in a beautiful, renovated modernist building or in the garden.
The mostly organic kitchen is run by Jeffrey Kuckelkorn (Cato by cato). Related to the programme of the Van Eyck he daily serves (from 16 September onwards):
* Breakfast from 9 to 10:30 a.m.
* Lunch from 12 to 2 p.m.
* Drinks and light meals from 4 to 6 p.m.
* Every Thursday presentations by several participants, advisors or external speakers open to the public will be organized; afterwards diner is served to all who registered. Please keep an eye on this website for the current programme.
* Every Friday afternoon, special surprise programme will be set up that will become reality when you're there.
 Afterwards every Friday evening, Jeffrey will serve dinner at 7 p.m. on reservation.
Reservations for the Thursday and Friday night dinners via Jeffrey's, t: 06.51098619 / e: kuckelko@xs4all.nl (reservations can be made until resp. Wednesday night /Thursday night)