04.12.15 – 15.01.16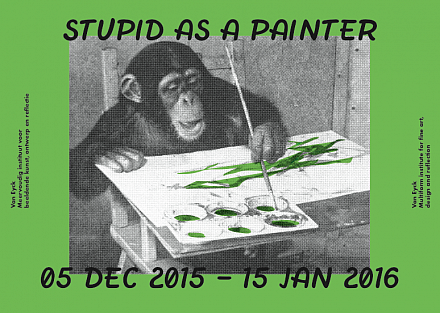 Stupid As a Painter
The popular assertion that painters are stupid whereas poets are intelligent has been in circulation since antiquity. The painter, it is claimed, merely imitates reality while the poet channels the wisdom of the gods. In other words, the painter is no more than a humble hack.** Fortunately, there exists a tradition of painting-theory that calls this saying into question. Painting, it would appear, demands a special way of seeing the world – a thinking eye. The Jan van Eyck Academie is a place where this gaze is cultivated. The potential importance to the artist of an intelligent gaze and a body of theory is revealed in Stupid As a Painter in which the focus lay on the academy's history of painting.
* According to Marcel Duchamp (1887-1968), himself a painter
** According to Simonides (556-468 B.C.), himself a poet
with:
Christophe Clarijs, Fons Haagmans, Frans Budé, Gerard De Lairesse, JCJ Vanderheyden, Keetje Mans, Miyeon Lee, Michiel Schuurman, Piet Dirkx, Raoul De Keyser, Rezi van Lankveld, Rik Meijers, Robin Gerris, Stefan Peters, Vincent Verhoef
Curator: Niek Hendrix 
Exhibition:
05.12.2015 – 15.01.2016
Mon to Fri 9:00 – 18:00 uur
Closed from 21.12.2015 – 03.01.2016
In the framework of: Maastricht invites artists-in-residence, a collaboration between SAM (Stichting Ateliers Maastricht) and Van Eyck, with the support of the City of Maastricht.