30.10.15 – 07.11.15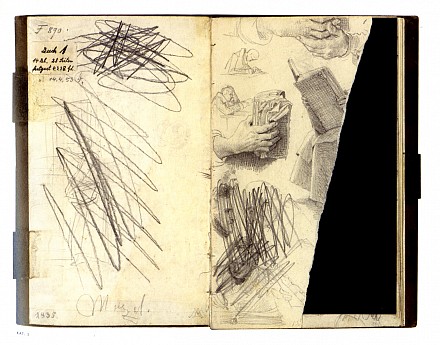 The Drive of Drawing
Can a drawing escape where it is going?
- William Kentridge
Research the possibilities of drawing. See with your hand, play the straight line off against the serpentine, fill an area with hatching and delight in the feel of the pencil on paper. Note how your ideas follow the drawing out into the street, into your mind, off the paper. Processes like these make a master class in drawing.
Apply for: 
THE DRIVE OF DRAWING led by Robbie Cornelissen
with the follwoing selected artists:
Arike Gill
Bas Ketelaars
Erik-Jan van der Schuur
Femke Gerestein
Gerbrand Burger
Jeroen Paalvast
Kim Habers
Lenneke van der Goot
Marie van Vollenhoven
Matilde Everaert
Susanna Inglada
Tijs van Bakel
This master class is organized from 30 October - 7 November 2015 by the Hubert van Eyck Academie, the "brother" of the Jan van Eyck Academie. As a participant in the master class, you will be challenged for six full days to keep your pencil sharp, to be free of preconceptions and to expand your options. You will develop by doing, by learning from the master and by egging one another on, through conversation, discussion and comparison.
Profit from the international but unpressured context of the Jan van Eyck Academie, in a programme shared with participants from all over the world.
The master class immerses its participating artists in the world of drawing, so that they can return to their individual studios armed with new insights and experiences.
The underlying idea behind the master class is that drawing, seen as a journey or an improvisation, can be a form of research which enhances an artist's professional capacities. Besides cultivating individual development, the master class is a group process in which individual fixed ideas and methods can be challenged. This means in practice doing a lot of drawing and reflecting on the outcome. The process of drawing and the master class assignments will stimulate the participating artist to explore drawing in breadth and to assess his or own position with regard to the possibilities. Each participant will be asked to make a new series of works for the concluding presentation.
The master class will be organized in several phases: an introduction, an experimentation period, an interim reflection period, working towards the presentation and, finally, the public exposure of the presentation. The well-known graphic artists Erik Odijk and Marc Nagtzaam have been invited to perform the interim and final evaluations.
The Hubert van Eyck Academie is delighted to announce that Deanna Petherbridge, artist and author of the formidable all encompassing book The Primacy of Drawing, will be present at 5th of November at 20:00 to give the lecture Drawing: meaning, process and critique. She will also take the time to engage in conversation with the participants of the master class. 
The planned activities furthermore include an evening with architects, artists and designers who will speak about the importance of drawing to their thought processes and work. The full programme will be announced in September.
FACT:
- 30 October – 7 November 2015
- Master: Robbie Cornelissen
- Costs: 500,- 
- The participants live and work in the Netherlands and are between 24 and 38 years old
- Participants reside for the period of the master class in Maastricht
APPLYING: CLOSED!
Artists with a fascination for drawing - in a technical, conceptual and theoretical sense - who want to hone their skills,  wish to learn from the master and want to develop and consider their work in an open context. A jury reviews the applications.
DEADLINE: 1 AUGUST
Your application consists of:
- The online application form 
- 1 PDF file containing the following parts:
1) A short motivational letter
2) Your resume (max. 1 page)
3) Documentation of recent work, showing your love for drawing (max. 15 images)
Please send the PDF to:  application@janvaneyck.nl, mentioning 'Application The Drive of Drawing'
The Drive of Drawing is made possible by the Mondriaan Fund