14.09.16 – 16.09.16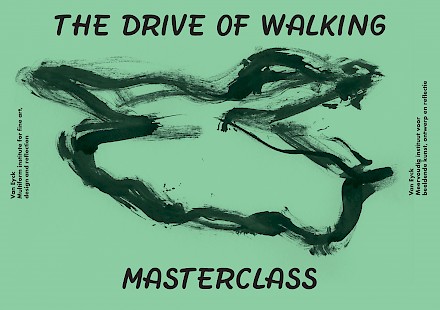 The Drive of Walking - Public programme
THE DRIVE OF WALKING
Invitation public programme
14 and 16 September 2016
Walking has created paths, shaped cities, parks; generated maps, guidebooks, stories, poems, art
-Rebecca Solnit
THE DRIVE OF WALKING
Led by Yeb Wiersma, David Helbich
With:
Adam Knight
Ellen Schroven
Erik Benjamins
Ingrid Greijn
Isolde Venrooy / Marlies van Hak
Kay Schuttel
Kimberley Goes
Koen Dijkman
Liesbet Grupping
Lotte Landman
Morena Buser
Rebecca Worth
The Drive of Walking is the second in a series of 10 master classes organized by the Hubert van Eyck Academie en made possible by the Mondriaan Fund.
This master class investigates walking as a significant aspect of art practice and as a specific method of research, perception and experience. 12 participants will explore in collective and individual walks philosophical, cultural, phenomenological, botanical, ecological, spatial questions. The master class leaders will initiate the walks in all these senses, and, together with the participants, will examine all its possibilities.
You are most welcome to attend the public programme of The Drive of Walking in the Van Eyck:
Wednesday 14 September
20:00: Walking Experiences.  Five artists and a writer each talk for 20 minutes about their work and what walking means to them.
Artists Marcus Coates, Esther Polak, Jan Rothuizen, David Helbich, Yeb Wiersma and curator and writer Rieke Vos.
Friday 16 September
16:00: Walking the master class. In conversation with everyone involved in the master class.
17:00: Walking Events. Walk with the artists.
17:30: Opening Project Space The Drive of Walking.