09.09.16 – 16.09.16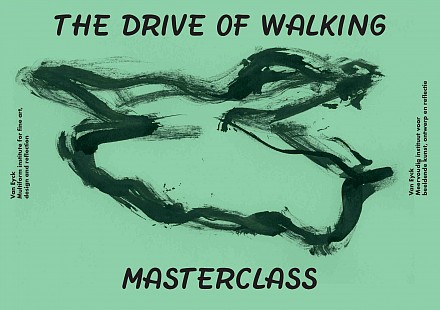 THE DRIVE OF WALKING
THE DRIVE OF WALKING

Master class led by Master Yeb Wiersma and Guest master David Helbich
9 September to 16 September 2016
Deadline: 1 July
Following the success of The Drive of Drawing master class, the Hubert van Eyck Academie is now organizing The Drive of Walking. This master class investigates walking as a significant aspect of art practice and as a specific method of research, perception and experience.
John Berger wrote, "Stories walk, like animals and men. And their steps are not only between narrated events but between each sentence, sometimes each word. Every step is a stride over something not said."
The Drive of Walking master class aims to make each step eloquent and to chart the unseen.
The master class will examine walking as a part of art practice in pragmatic, artistic and theoretical respects. The hilly landscape of South Limburg and the urban space of Maastricht (as part of the cross-border "Green Metropolis") form a natural context for physical and mental walks. The questions of how one walks, what conditions or protocols define the walk, the form in which these are presented, what questions the participants in the master class must answer and what must be left to the public, are all relevant topics for The Drive of Walking.
WHO IS IT INTENDED FOR?
Applications are welcome from artists, curators, writers, designers, anthropologists, poets, architects, landscape architects and philosophers, for whom walking falls within the scope of their work or who wish to explore what walking may mean to their work. The maximum number of participants is 15. 
STRUCTURE OF THE MASTER CLASS
The master class offers its participants options for individual and group walks. An individual walk is in this case an elaboration of the participant's own walk proposal in relation to the shared exploration of philosophical, cultural, phenomenological, botanical, ecological, spatial etc. questions and experiences. The master class leader will initiate the walk in all these senses, and, together with the participants, will examine all its possibilities.
The guest master of the master class, David Helbich will explore the same subject in his own way, in relation to his own background, through individual conversations with the master class participants and through the public programme.  Equally important is the exchange of experiences and ideas between the participants of the master class as well as the interaction with the participants of the Jan van Eyck Academie.
The public programme will take place on Wednesday 14 September with guests: artists Marcus Coates, Esther Polak, Jan Rothuizen, David Helbich, Yeb Wiersma and curator and writer Rieke Vos. They will elaborate on what walking means to their practice. Marcus Coates will also contribute to the master class on Thursday.
The master class will end (provisionally) on Friday afternoon 16 September with a mobile public presentation and event. A publication will form the ultimate conclusion of the master class. 
APPLICATION
 The master class is intended for artists, curators, writers, designers, anthropologists, poets, architects, landscape architects, philosophers.
Your application should consist of your curriculum vitae, an overview of your work, your motivation and a walk proposal. This proposal will be a description of the individual walk you hope to make in the context of the master class. This walk must begin in the Van Eyck  and its plan and elaboration must be finalized in the week of the master class. The proposal for the walk may cover a protocol, content and presentation.
An application consists of:
– the online application form
– one PDF file with the following items:
1. a letter of motivation
2. a proposal for an individual walk, optionally with a protocol and statements of content and intention.
3. a curriculum vitae (maximum 1 page)
4. documentation of recent work (maximum 15 images).
The PDF file should be sent by email to application@janvaneyck.nl with "Application for The Drive of Walking" in the subject line. 
The deadline for applications is 1 July.
PRACTICAL DATA

Date of master class: 9 September – 16 September
Master: Yeb Wiersma
Guest master: David Helbich
Guests for the public programme: Marcus Coates, Esther Polak, Jan Rothuizen, Rieke Vos
Participation fee: 450 euros including lunches, 3 x dinner and a drink.
The Drive of Walking master class, conducted by artist Yeb Wiersma and David Helbich, is organized by the Hubert van Eyck Acadamie together with the Jac. P. Thijsse Green Lab (both components of the Van Eyck institute, Maastricht). 
The Drive of Walking is co-funded by the Mondriaan Fund.
BACKGROUND
Walking and art have long gone hand in hand. Much as one walk differs from another, in all cases they present opportunities for discovery and hence for new forms knowledge: sensory, spatial, bodily etc. "The mind is a muscle", as Yvonne Rainer has aptly remarked.
Petrarch opened Renaissance perceptions the of natural world and of landscape through his famous ascent of Mont Ventoux. The poets Hölderlin and Wordsworth rambled for hours or days through forests and mountains, surroundings where their words could take flight. To free themselves from the straitjacket of capitalism, the Situationists undertook their unplanned dérivés that led them to unsung parts of the city. Stanley Brouwn asked bystanders to draw the route he must take. Richard Long walked through landscapes near and far, making art from his walks and from the landscape itself. Janet Cardiff, in her audio walks, makes a playground of reality in which fact and fiction mingle. More and more artists are plotting out walks as an ingredient of their artistic practice; they make audio walks, explore urban environments (ranging from parking lot walks to "fence cuts" which transgress barriers). So it is safe to say that in recent centuries "walking has crated paths, shaped cities, parks, generated maps, guidebooks, stories, poems, art," as Rebecca Solnit writes in Wanderlust, her historical review of the culture of walking.
Interesting in this connection is the "strollology" of the Swiss sociologist Lucius Burckhardt. The importance of walking was so self-evident to him that he established, in the 1980s, the faculty of Spaziergangswissenschaft ("Science of Strollology") at Gesamthochschule Kassel in Germany.  He treats walking as an alternative mode of perception. To elucidate this idea, he organized a walk in which the participants walked through the streets of Kassel holding a car windscreen before their faces. Burckhardt's strollology raises questions such as "why do we see what we see?" and "what determines the significance we attach to our perceptions?" Only by considering such questions, he proposes in his book Why Is Landscape Beautiful? The Science of Strollology, is it "possible to arrive at new and unusual judgements on matters long since known".
Yeb Wiersma, Class-master:
 Yeb Wiersma's hybrid art practice is shaped by the belief that "field studies – always being in motion and in relation – and the application of observational skills – the suspension of interpretation – enables alternative, sensory routes of interacting with and narrating the instant now."
 She graduated from the Rietveld Academie in Amsterdam and continued her studies at Cooper Union in New York. In 2014, she was a participant at the Jan van Eyck Academie, where she developed a series of walks in collaboration with Green Art Labs Alliances. Among other venues, her work has been presented by FOAM Amsterdam, Museum De Paviljoens, the Van Abbemuseum and BINZ Switzerland.
 Together with Claire Weeda, she recently started a series of cultural expeditions This Teeming World at Artis Library, Amsterdam.
Guest Master David Helbich:
David Helbich (Berlin 1973) is an artist who lives and works in Brussels, he studied composition and philosophy in Amsterdam and in Freiburg. 
David Helbrich created various experimental works on stage, on page, online and in public space. His trajectory moves between representative and interactive works, pieces and interventions, between conceptual work and actions. 
A recurrent interest is the understanding of an audience as active individuals and the search for an opening up of experiences in an artistically restricted space.  
He produces among other things, earpieces, eyepieces, (audio)installations and city (audio)tracks in cities like Brussels, Maastricht, Bergen and Riga and is the author of the photo book Belgian Solutions.
Guests Public Programme:
Marcus Coates (b. 1968, UK) involves the natural world in his projects. His work reconsiders the spiritual roles of animals and nature in postmodern society. He graduated from the Kent Institute of Art and Design and the Royal Academy of Art, London in the early Nineties. Since 2004 Marcus Coates has been developing an ongoing body of work in which he performs a shamanic ritual in front of a live audience. Coates exposes the structures of society and calls into question the need for a reconnection with our origins.
Jan Rothuizen (b. 1968, NL) wanders the streets of cities all over the world. During his walks he notes down what he sees, thinks and feels. His hand drawn maps not only record what is actually there, but also show how he experienced the cities he visited.
In 2009, Jan Rothuizen published several books, one of which is The Soft Atlas of Amsterdam, a collection of hand-drawn maps of the city he grew up in. His work has been exhibited internationally.
Esther Polak (b. 1962, NL) works together with Ivar van Bekkum as an artistduo under the name PolakVanBekkum since 2010. The focus in their work is on landscape and mobility. They engage with new technologies like GPS and data collection to express an individual experience of spaces like the contemporary city and countryside and influence the human understanding and perception of space and the stories we tell to explain our lives. PolakVanBekkum work and exhibit internationally.
Rieke Vos (b. 1981, NL) is a curator and writer based in Amsterdam. Her main research interests are the role of art in processes of urban transformation and the relationship between art, architecture and economics. 
SELECTED BIBLIOGRAPHY - for further reading
Joseph A. Amato, On Foot. A History of Walking. New York University Press 2004.
Lucius Burckhardt, Why Is Landscape Beautiful? The Science of Strollology. Birkhauser 2015.
Francesco Careri, Walkscapes. Editorial Gustavo Gili S.L.
Merlin Coverley, The Art of Wandering. The Writer as Walker. Oldcastlebooks 2012.
F. Gross, Wandelen. Een filosofische gids. De Bezige Bij 2013.
Tim Ingold, Lines. A Brief History. Routlegde 2007.
Tim Ingold, Being Alive. Essays on Movement, Knowledge and Description. Routledge 2011.
Robert Macfarlane, The Old Ways. A Journey on Foot. Hamish Hamilton 2012.
amish Hamilton 2012.
Ann Meskens, Eindelijk buiten. Filosofische stadswandelingen. Lemniscaat 2007.
Hans-Georg Moeller (ed.), Landscape and Travelling East and West. A Philosophical Journey. Bloomsbury 2015.
Geoff Nicholson, The Lost Art of Walking: The History, Science, Philosophy, Literature, Theory and Practice of Pedestrianism. Harbour Books 2010.
Karen O'Rourke, Walking and Mapping. Artists as Cartographers. MIT 2013.
Michel Serres, Variations on the Body. Univocal Publishing 2012.
Rebecca Solnit, Wanderlust. A History of Walking. Penguin 2000.
Image: Niccolò Della Luna, 'Traces'