06.05.18 – 24.06.18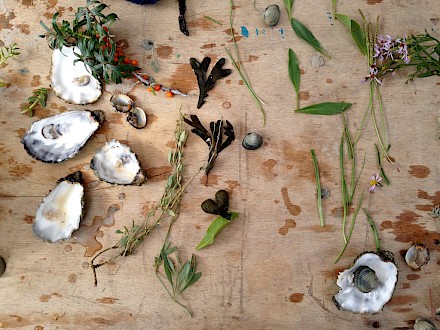 The Halotolerant Human
Van Eyck participants duo De Onkruidenier (Ronald Boer en Jonmar van Vlijmen) presents the exhibition The Halotolerant Human at the Bewaerschole in Burgh Haamstede, Zeeland (NL).
How will we cope with a future in which fresh water has become increasingly scarce, and in which rising sea levels have forced us to change our lifestyles and to rethink the way we behave towards our planet? Could plants reveal us new insights into our relationship with a rapidly changing environment? How can we reconcile human impact of transformation on the landscape with the holistic idea that everything on Earth – including people– ulti­mately comes from the same source? These are the questions that De Onkruidenier poses in its research into the halotolerance (salt tolerance) of the flora found along the coast. Proposing possible futures along the way that nurture the longing for a salt-loving lifestyle. 
Ronald Boer and Jonmar van Vlijmen present the results of their research of "salt-loving" plants in the Bewaerschole.
The opening on the 5th of May starts at 14:00 with a performance in collaboration with artist and Van Eyck alumna Rosanne van Wijk. During their work period at the Jan van Eyck Academie, the three jointly developed the performance 'How to ... FOOD', a visual research in which the restrictions and conventions of our food system are questioned. For the occasion of the exhibition they will perform again, this time focusing on the context of the topic of balancing fresh and salt water.
On Friday, 15 June, De Onkruidenier will organise a futuristic, halotolerant taste palette in the garden of the Bewaerschole from 17:00.
You can visit the exhibition until 24 June.
More info: bewaerschole.com