19.07.16 – 26.07.16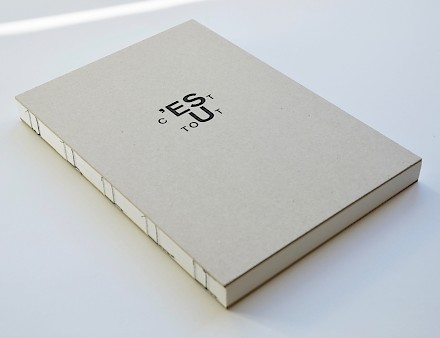 'The Last Pages' - Noëlle Cuppens
Visual artist Noëlle Cuppens presents her latest artist book on Tuesday 19 July at 17:30 in the project space of the Van Eyck. 'The Last Pages' is made in collaboration with the Charles Nypels Lab, the Printing & Publishing Lab. 
Noëlle Cuppens is a former participant of the Jan van Eyck Academie. She lives and works in Amsterdam and teaches at the Willem de Kooning Academie in Rotterdam.
About the book:
The Last Pages is based on the rediscovery of a set of Letraset dry transfer letters by Noëlle Cuppens. When she found out that these transfer letters were no longer being made, she decided to use what she had remaining to 're-write' the last book of Marguerite Duras: "C'est Tout" (No More). The result is a manuscript of 96 pages on drawing paper with hand-rubbed letters. The manuscript was made into an Artist Book and is designed by Art Collart and printed at the Charles Nypels Lab, van Eyck.
The presentation of the book is on show until 26 July during opening hours (Mon -Fri 9:00 - 18:00)