24.05.17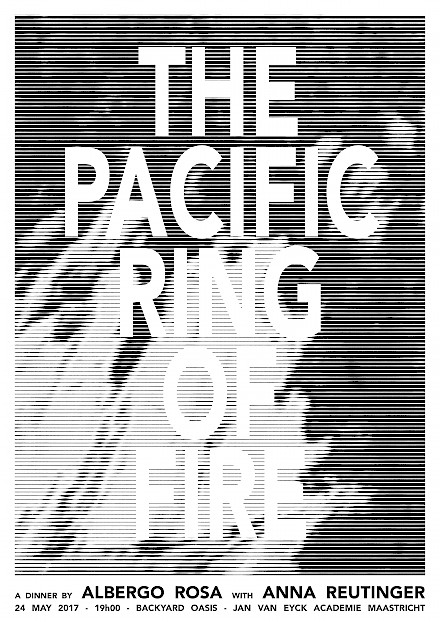 The Pacific Ring of Fire
Dine on fragments floating in a stirring sea, the food has turned black, its colour; perhaps an image, perhaps the notion of guilt or disaster, perhaps just reality. Throw in, (throw up), throw out.
The Pacific Ring of Fire is a dinner organized by Albergo Rosa on the 24th of May together with Anna Reutinger in "the backyard oasis", one of the gardens of the Van Eyck. The dinner is part of Table Tableaux or The Act of Letting a Person Into Your Home, an on-going investigation about tables and rituals surrounding this piece of furniture.
Both Albergo Rosa and Anna Reutinger worked at the Van Eyck during several months within the context of LAB WORK, a collaboration between the Van Eyck and the Creative Industries Fund NL. Designers and makers were invited to develop new, investigative work using one or more of the academy's Labs.
About:
Albergo Rosa (Annee Grøtte Viken and Maximiliaan Royakkers) embodies a shared curiosity and love for space, and a mutual interest and fundamental belief in a practice formed around research-by-making. A practice rooted in a multidisciplinary attitude as fragmented as the society in which their work is incorporated. Their interest in materiality, (science) fictional processes, collaboration, and architectural representation allow them to imagine - on a larger scale - what (interior) architecture is and can be.
Anna Reutingers work investigates our changing relationship to material within the internet condition, with special attention to craft, self performance, and the body and technology. Her practice is guided by her theory of the volatility of objects, or the idea that within the internet condition, material has been afforded new opportunities to live in an ever-changing state—allowing for the disruption of power structures, creation of micro economies and empowerment of individuals.