07.04.18 – 01.07.18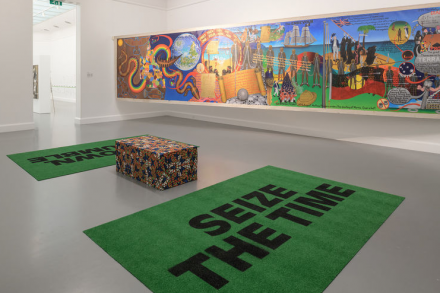 Trade Markings
Van Eyck alumni Rachel O'Reilly and Valle Medina & Benjamin Reynolds (Pa.LaC.E) participate in the group exhibition Trade Markings in the Van Abbemuseum in Eindhoven.
Trade Markings is the first major presentation in Europe of art and research foundation Frontier Imaginaries. The exhibition is inspired by the world-wide reach of Eindhoven and North Brabant's trade relations over 600 years. Visitors will discover unexpected relations between histories and objects from Afghanistan, Australia, Congo, France, Indonesia, Myanmar, the Netherlands, New Caledonia and Singapore. Three icons of North Brabant commerce—the falcon, the cigar and the computer chip – will appear and disappear over different times and territories. The exhibition brings the story of trade back home to Eindhoven, focusing on its local consequences.
Artist, poet and critic Rachel O'Reilly presents in collaboration with artist/architects Valle Medina & Benjamin Reynolds the new video Drawing Rights, and two collaborative drawing series. They are part of the project The Gas Imaginary that O'Reilly initiated during her stay at the Jan van Eyck Academie in 2013. Through poetry, collaborative drawing, lectures and film history screenings, the project has documented the dramatic effect of gas extraction through 'fracking', as it has rolled out over Australia, the artist's home country. Drawing Rights addresses the toxic heritage of colonial property law on contemporary modes of exploitation.
Curator: Vivian Ziherl (Frontier Imaginaries), in collaboration with Charles Esche and Annie Fletcher (Van Abbemuseum).
Participating artists: Richard Bell (met As Long As It Takes), Marcel van den Berg, Blade, Alice Creischer, Bonita Ely, Ho Rui An, Gordon Hookey, Patricia Kaersenhout, Karrabing Film Collective, Tshibumba Kanda Matulu, Tom Nicholson, Wendelien van Oldenborgh, Rachel O'Reilly (met PALACE, Valle Medina & Benjamin Reynolds), Elizabeth A. Povinelli, Ryan Presley, Rammellzee, Farida Sedoc, The Otolith Group, Erwin Thomasse, Dondi White en Sawangwongse Yawnghwe; en bruiklenen van het Valkerij en Sigarenmakerij Museum Valkenswaard, Collectie G. Goven en Museum Helmond, Stichting Nationaal Museum van Wereldculturen, Milani Gallery en het Crochet Coral Reef, een project van Margaret en Christine Wertheim en The Institute for Figuring.
Trade Markings is on show up until 1 July  at the Van Abbemuseum
More info: vanabbemuseum.nl
Photo: overview exhibition space, Peter Cox