28.04.18 – 17.06.18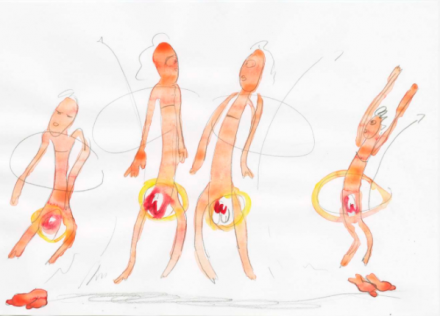 Traumatized Lemon
Van Eyck participant Andrea Éva Győri's first solo exhibition in the Netherlands, Traumatized Lemon, will be held at the Vleeshal in Middelburg from 29 April - 17 June 2018.
Győri's practice is marked by an in-depth examination into the human body and mind. What do we know about our bodies? What do we share? In 2012, the artist started a shower tour, asking people for a possibility to shower in their place as she didn't have a shower in her own flat. As a reward, the shower host could document her showering. For the last Manifesta in 2016, she teamed up with a sex therapist, with whom she explored the female orgasm.  Touching upon themes that are often left untouched, Győri pleads for a breaking down of taboos and a pushing of the invisible boundaries between public and private. Topics like well-being, health, mental and physical diseases run through her practice. 
For her exhibition at Vleeshal, Győri is developing a new series of drawings, sculptures and videos that offer an openhearted insight into how she handles cancer.
Curator: Roos Gortzak, director Vleeshal
More info: vleeshal.nl