21.04.18 – 30.12.18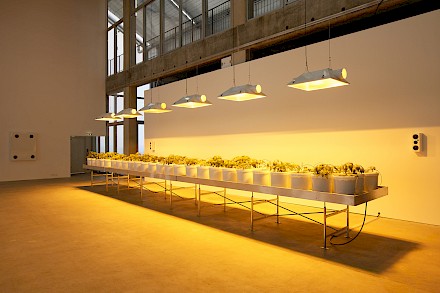 Tubology - Our lives in tubes
Van Eyck former participant Ju Hyun Lee presents together with Ludovic Burel the exhibition: Tubology our lives in tubes at the FRAC Grand Large-Hauts de France in Dunkirk. This project is the second phase of the 'horizontal worker', developed during her residency at the Van Eyck and presented at the International Design Biennale of Saint-Etienne last year.
ABOUT
Tubes are everywhere. Inside us – we're made of tubes: auditory, digestive, bronchial and so on and so forth. Outside us – the pipes and post-industrial cables that mean we can be connected and linked up with each other, with all the potential for doing things remotely offered by the Internet (and especially online video viewing on YouTube). 
But here's the thing: all this striving not to "go down the tubes" is generating an ecological emergency. So what kinds of mental, social and environmental ecologies do we need to take proper care of ourselves and others, humans and non-humans (animals, plants, minerals, etc.)? How can we do away with local and global hierarchies within the system of overall interconnectivity that is our lot today?
In this exhibition KVM (Lee Ju Hyun and Ludovic Burel) address the issue of caring for the living world – bioethics – via two special plantings of tubular peppers and tubers effected for "Tubology" by home gardeners, market gardeners and botanists in and around Dunkirk (Grande-Synthe, Leffrinckoucke, Téteghem, Audruicq, etc.).
Essentially critical in its approach, "Tubology – Our Lives in Tubes" offers a totally new reading of the Frac Grand Large collection from the 1960s up to the present day, and speculates about the prerequisites for rendering art and design relevant to a society mutating at high speed. 
Curator/Scenography: KVM — Ju Hyun Lee, Ludovic Burel
Location: Forum 4 & Belvédère – Frac Grand Large-Hauts de France
503 avenue des Bancs de Flandres, 59140 Dunkerque (France) 
More info: http://www.fracnpdc.fr/wp-content/files_mf/1524032871CPTubologieEN.pdf
Photo's: Aurélien Mole