14.02.20 – 21.02.20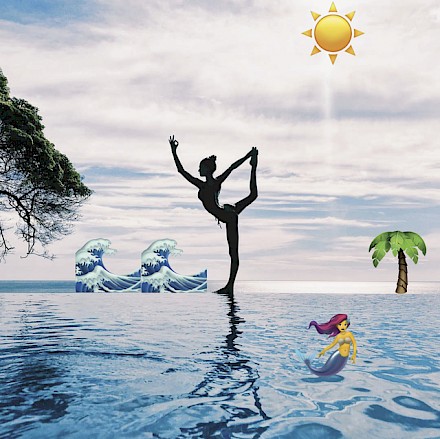 Villa Plumeria: Chapter One
Villa Plumeria: Chapter One is a presentation by Raja'a Khalid for the Hot House project, curated by Kent Chan.
OPENING
14 February 2020, 17:00 - 19:00
Studio 215, Jan van Eyck Academie
On view between 14:00 - 18:00 on:
15 - 16 February
19 - 21 February
! If you wish to visit, please contact Kent Chan at chankent.08@gmail.com
Villa Plumeria: Chapter One
In this author reading, Raja'a Khalid delves into the colonially derived eco-cultural commodity network that looms large behind the current day wellness economy. Set in a ladies-only yoga retreat in Bali, Villa Plumeria: Chapter One aims to cast a critical glance at a physical practice that has invited an unparalleled gaze fixity. Yoga – on a paradise beach, next to a waterfall, in a tropical rainforest, anywhere.
Nb. This story includes young flexible women, Instagram, a paradise landscape, coconut scented body cream, self-doubt, tropical heat, neoliberal alienation. For the exhibition opening, Raja'a will be reading the opening chapter.
Raja'a Khalid (b. 1984, Jeddah, Saudi Arabia) is a Saudi-born artist from Dubai. Her practice is concerned with the Arabian Gulf region and its contemporary narratives of work, wellness, commodity circulation, trends and consumer culture. Her current work looks at the Gulf's own streaming motifs of discipline, athleticism, adornment, fetish, desire, conspicuous production, idolatry, fitness, hypermasculinity, consultancy culture, neoliberal subjecthood and crypto-religiosity. She received her MFA in Fine Art from Cornell University in 2013.
Hot House, initiated by the Jan van Eyck participant Kent Chan, is a structure and space situated within the Jan van Eyck Academie. It presents a series of exhibitions and events that seek to think through art within a hot and humid environment. It brings artworks and audiences together in a curatorial paradigm that is centered upon the abundance of heat and humidity as companions rather than constrictions to thoughts. Shedding light on history, culture, and epistemologies, Hot House poses the questions as to where, when and at which point does thought cease amidst the fermenting of heat and humidity.