30.10.16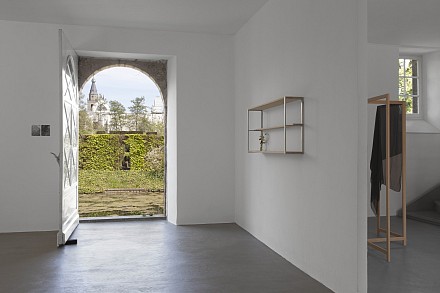 What About a Garden
Kasteel Wijlre estate and Van Eyck invite you to the What About a Garden closing event on Sunday 30 October, from 14:30 to 16:30, at Kasteel Wijlre estate.
This afternoon sees a celebratory presentation of Stefan Cools's research results and a musical performance of Solo Song for basklarinet/klarinet –The Motion Caused– (2016), a composition by Ig Henneman inspired by the poem Garden by Anneke Brassinga and performed by Fie Schouten.
What About a Garden began in April 2016 as an interdisciplinary project featuring an exhibition at the Kasteel Wijlre estate's Koetshuis, with work by Van Eyck alumni Jason Hendrik Hansma, Stefan Peters, and Alessandro Bertelle; garden walking routes by Sanne Vaassen and Stefan Cools, who also creates an intervention in the orchid greenhouse of the Hedge House art pavilion; a (once only) literary route through hidden gardens in Maastricht with lectures by Anneke Brassinga, Emma Crebolder, and Wiel Kusters; and a series of educational activities. These different facets examine the significance of the garden for our thinking and agency.
-----
This spring and summer, the interdisciplinary project What About a Garden takes place at Kasteel Wijlre estate. The project includes an exhibition, an educational program and talking routes through the park, the surrounding landscape and the city of Maastricht. What About a Garden is an initiative of Kasteel Wijlre estate and the Van Eyck (post-academic institute for fine art, design and reflection in Maastricht, the Netherlands), in collaboration with the Centre for Contemporary Writing/Universiteit Maastricht.
The works in the exhibition What About a Garden, taking place at the Koetshuis (coach house) of the estate, examine the significance of the garden for our thinking and our endeavours. A garden can be wonderful; it can comfort, calm, and relax. However, gardens also unsettle and provoke. The tension between growth and decline, awareness and unknowingness, and stagnation and life, unearths the garden's inherent conflicts; a friction synonymous with one's being and spirit. The exhibition includes works by three alumni of the Van Eyck: Jason Hendrik Hansma, Alessandro Bertelle, and Stefan Peters. Their work interweaves with artworks from the former Eijck Collection, which are part of the collection of the Bonnefanten Museum since 2012. With works by Donald Judd, Ewerdt Hilgemann, Niek Kemps, Richard Long, Mitja Tusek, Nicholas Pope, and Ger van Elk.
Extending the What About a Garden exhibition to the orchid greenhouse of the Hedge House, Stefan Cools presents his laboratory and ongoing artistic research on butterfly species and their residues. On June 28, a talking route will be organised, where Anneke Brassinga and several other writers and poets will read from their own work in gardens in the inner city of Maastricht. Artist and Van EYck alumna Sanne Vaassen is currently researching the different scents that the estate's park has to offer, which will result in a route that will be presented for the first time on July 3.
About Kasteel Wijlre estate
Kasteel Wijlre estate is an art centre where contemporary art and architecture converge with cultural heritage and nature. It presents larger and smaller exhibitions, interdisciplinary projects and events as well as educational activities in the contemporary art pavilion Bonnefanten Hedge House, the coach house, and the garden. The estate has presented artists such as Ger van Elk, Giuseppe Penone, Ad Dekkers, Peter Struycken, Tony Cragg, Carel Visser, Marlene Dumas, Rob van Koningsbruggen, and Jean-Marc Bustamante. Kasteel Wijlre estate is located in the south of the Netherlands and was founded by art collectors Jo and Marlies Eijck.
The opening of the project What About a Garden took place on 10 April at the Koetshuis of Kasteel Wijlre estate. By way of presentations, routes, interventions and an educational programme What About a Garden explores the significance of the garden in the life and work of artists, writers and philosophers.
The project opens with an exhibition with work by three participants of the Jan Van Eyck Academie: Jason Hendrik Hansma, Alessandro Bertelle and Stefan Peters. Each in their own way, these artists are fascinated by the idea of the garden and the illusion of 'uncultivated nature'. Their work is interwoven with artworks from the (former) Eijck Collection, a loan from the Bonnefantenmuseum.
What About a Garden is a collaboration of Kasteel Wijlre estate, Hubert van Eyck Academie and the Centre for Contemporary Writing (Maastricht University)
What about a Garden
10 April - 30 October 2016
Buitenplaats Kasteel Wijlre  
Opening on 10 April from 15:00-17:00
closing event on 30 October from 14:30-16:30
During half a year the project shows work by:
Jason Hendrik Hansma, Alessandro Bertelle, Stefan Peters, Stefan Cools, Sanne Vaassen, Donald Judd, Ger van Elk, Mitja Tusek, Ewerdt Hilgemann, Joëlle Teurlinckx, Niek Kemps, Nicholas Pope and Richard Long
What About a Garden is realized with the financial support of VSB Fonds, BNG Cultuurfonds, Brand Cultuurfonds, the Municipality of Eijsden-Margraten, the Municipality of Gulpen-Wittem, and the Municipality of Maastricht and with thanks to loans from the Bonnefantenmuseum Maastricht.

Photo (garden): Kim Zwarts 
Photo (overview Koetshuis): Werner Mantz Lab