07.03.18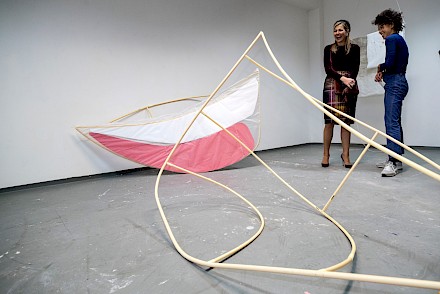 Working Visit Queen Máxima
Her Majesty Queen Máxima visited the Van Eyck on Wednesday 7 March. She learned about the importance of talent development in the arts, and met artists in their studios for a preview of the Van Eyck's annual Open Studios event on 8-10 March.

Queen Máxima was in Maastricht today for a working visit to the Van Eyck. It was an opportunity for her to learn more about the importance of developing artistic talent in the Netherlands and the part played in this by post-academic institutes such as the interdisciplinary, multiform Van Eyck institute.
The Queen discussed these subjects in a round-table conversation with the hosts, Van Eyck director Lex ter Braak and Mondriaan Fund director Birgit Donker and Stijn Huijts - director Bonnefantenmuseum, Liesbeth Bik - artist, curator and Van Eyck advisor, Ruth Benschop - lector Arts, Autonomy and the Public Sphere, Zuyd University, Van Eyck alumni Simon Wald-Lasowski and Urok Shirhan, Theo van Ballegooy - executive secretary to the board of the Elisabeth Strouven Foundation, Huib Haye van der Werf - head of artistic programme Van Eyck, Pieternel Fleskens - head of Hubert van Eyck Academie and Boudewijn Cox – business manager Van Eyck.
This conversation was followed by a visit to the central Open Studios exhibition Point-Loops-Blooming where she talked to curators Bernke Klein Zandvoort (NL) and Rodrigo Red Sandoval (MX). Afterwards the Queen visited the studios of participants Guido Yannitto (AR), Hagen Verleger (DE), Julius Heinemann (DE), Poku Mensah (GH), Alexandra Philips (US), De Onkruidenier (NL) and Giuseppe Licari (IT). She enjoyed a preview of the art projects that they will present during the next three days as part of the Van Eyck's Open Studios 2018.

The Van Eyck expresses its sincere gratitude to Queen Máxima for her visit, and thanks her for her lively interest in the institute and its artists.
Link article NRC: 1  -  2  - 3
Link article Volkskrant 
Link artcile De Limburger: 1 en 2
Link L1 TV
Photo's: Harry Heuts