Margaret van Eyck Academie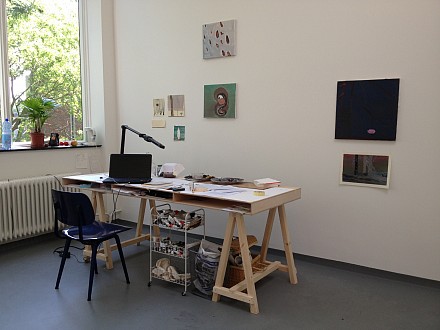 The  Margaret van Eyck Academie welcomes promising and established artists, designers, photographers, architects, writers, curators, and thinkers. Every applicant shares our belief that insight comes through exchange with other: insight in the meaning of things, in your own practice, in the (art) world. Besides working in your own studio, you are expected to take an active part in the Van Eyck programme, to participate  in one or more In-Labs and engage in projects initiated by Van Eyck Mirror, the project bureau of the Van Eyck.
At the Van Eyck you have a studio of your own to write proposals, work on your project, investigate. In our view, the studio equals the classic vita contemplativa. The programme stands for the vita activa. Both are correlated and as such strike a perfect balance.
The programme is the sum total of the general programme and several more specific programmes. The generic programme consists of regular studio visits by advisors and guest, of lectures, debates, presentations. The specific programmes comprise what happens in the Labs, the In-Labs, the Mirror-projects and what you individually contribute and develop. Leitmotif of the annual programme is set by the artistic and content- related needs of the participants.
An In-Lab is a module established by like-minded participants. It can strike up friendships that last a lifetime. An In-Lab offers you the opportunity to enhance your knowledge of and skills in your own discipline, to study something in depth, broaden your critical views. Guest and kindred artists can be invited to add to the working of the In-Labs. Together the In-Labs form a cellular and porous structure that typifies the openness of the Van Eyck.
On a regular basis the Van Eyck is asked by third parties to make contributions to projects and manifestations. In addition, Van Eyck Mirror, the Van Eyck project bureau, actively secures commissions and projects for the Van Eyck. Also the Hubert van Eyck Academie initiates or contributes to collaborative projects. The participants are expected to participate in a project of their own choosing.
The Van Eyck boasts well-fitted Labs, an auditorium, gallery spaces and a café- restaurant. The facilities are available to participants and all interested parties. The comings and goings of visitors and Lab users provide ample opportunities for interesting encounters.