In-Labs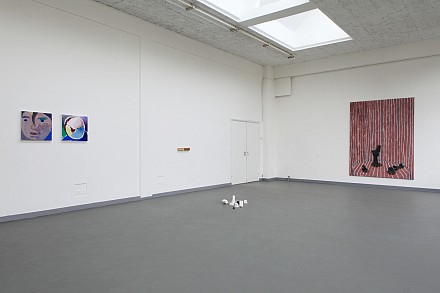 The In-Labs are modules established by like-minded participants. An In-Lab offers participants the opportunity to join together over shared curiosities and urgent questions, to study something in depth, and/or broaden their critical views. It is the occasion to enhance their knowledge of and skills in their own field of expertise, or, on the contrary, within another discipline. Guests from outside can be invited to add to the working of the In-Labs, and (public) events are often organised to expand their breadth. This makes the In-Lab a unique elaboration of the Van Eyck program, both for outside audiences and all participants. 
In-Lab 2018:
Magical Riso In-Lab
In-Lab 2016-2017:
FGFG — A Kitchen Debate
Artists, designers, critics, cooks, activists, etc. were invited to demonstrate their approach to the issue of food and its production. On both the individual and collective level, as well as its relationship to the local and the global. The intention is neither to separate nor to prioritise theory over practice. In short, the aim is to present their philoso-food in favour of a new organisational ecology.
Organised by participant Ju Hyun Lee
In-Labs 2015:
CYBER / NET / ICS
Interest in cybernetics from different perspectives such as the utopian and dystopian concepts of the brain as a control room or the evolution of perceptions and boundaries of our selves, and the perception and usage of space and time in virtual realities. Proposed guests to discuss and present on these issues are: writer and artist Jenna Sutela (FI), biohacker Tao Taler (NL) and Claus Pias (DE) Professor Media Theory, Centre for Digital Cultures Lueneburg.
Participants: Antje Guenther, Alessandro Bertelle, Hanna Nilsson and Rasmus Svensson. Guests: writer and artist Jenna Sutela (FI), biohacker Tao Taler (NL) and Claus Pias (DE) Professor Media Theory, Centre for Digital Cultures Lueneburg.
Two Times One
This In-Lab proposes a publication to be developed, printed, and published through the Jan van Eyck facilities. The publication will be produced in two volumes, the first to be published in October 2015, the second in February 2016. The two-issue publication will explore two themes that interlock from alternate angles. The first issue will be dedicated to Compression, the second to Augmentation.
The project is a collaborative effort by a group of current participants who form the core editorial and design team as well as the production, launch and distribution of the publication. The content will be generated both by current participants and external contributors/collaborators. The editorial team will seek out writers, artists, architects, and people from all disciplines whose work pertains to the themes, as well as launch an open call for submissions through our respective networks. While contributions remain open to anyone interested, the editorial team will make selections based on quality and relevance to the theme.
Participants: Beny Wagner, Christophe Clarijs, Alina Schmuch, Ruben Castro, Teresa Cos, Golnar Abbasi, and Marine Delgado. Contributors: Genevieve Robichaud, Robert Rapoport, Lua Vollard, Joe Neave, Till Wittwer, Sophia Holst, Clemens Jahn, Samaneh Moafi, Dafne Boggeri, Gilda Manfring, Molood Jaberi, Timo Demollin, Sean Fabi.
Screen Matter
This In-­Lab proposes a series of events in which artists working in moving image are invited to screen and later discuss their work through the lens of a clearly determined approach. This could be the faithfulness to a particular medium, the repetition of a language, a genre, or the way of production they've adopted. Starting from our interest in artists who invest themselves in such things ­ in contrast with more strategic multidisciplinary artists who borrow any given media at their convenience ­ we want to initiate a discussion around the commitment of such decision and the way it shapes the actual content of the work.
Participants: Alessandro Bertelle, Beny Wagner, Graham Kelly and Daniel Jacoby. Guests: Imri Kahn (artist), Anna Zett (artist), Julian Ross (curator, writer), Sven Lütticken (art critic, art historian), Ben Rivers (filmmaker and artist), Aily Nash (curator).
Images of Destruction of Images
This In-Lab engages itself with questions around images of destruction and the destruction of image. It departs from the assertion that ours is an age in which destruction and images are simultaneous and inherently intertwined. The task at hand, however, is to complicate this supposedly recent phenomenon – for instance, as seen and discussed with the emergence of Islamic State-produced destruction and its simultaneous viral imagery – and instead, to read this current moment by looking at recent and less recent histories and geographies of destruction and (lack of) images thereof.
Participants: Urok Shirhan and Jason Hendrik Hansma
In 2014 the following In-Labs were started:
In-Lab—Return to the Cinema
The artist's moving image is often in a precarious position within the exhibition space; for example, its need for darkness, comfortable seating and its fixed start and end times are often in opposition to the emphasis on light and the flow of foot traffic intrinsic to most museums and galleries.
Over 5 months, The Return to the Cinema In-Lab hosted four screenings (with films by Erik van Lieshout, Wendelien Oldenborgh, Beatrice Gibson and Keren Cytter) at the Lumière Cinema in Maastricht. The purpose was to enable thinking about the artistic moving image outside of the context of the exhibition space, both in terms of the viewing experience and in relation to the populism of the cinema - can artists' moving image work become part of mainstream image consumption and introduce the video or filmic image of the artist to the local cinema?
Participants: Blaine Western, Ellen Venus Feiss, Andrea Serego di Alighieri, Anton Stuckardt, Joris Lindhout
In-Lab—Fiction
the Fiction In-Lab started reading the novella The seven most exciting hours of Mr. Trier's life in twenty-four chapters by artist Keren Cytter, encountered writers such as Adam Thirlwell and Will Self along the way and ended its eclectic foray into literary fiction with a discussion on the podcast Serial by journalist Sarah Koenig (investigative journalism using techniques from the world of fiction). 
Participants: 
Nina Thibo, Ilse van Rijn, Sunette Viljoen, Blas Isasi, Blaine Western, Kym Ward, Joris Lindhout
In-Lab—Knowledge Is A Does
The Knowledge Is A Does reading group was interested in the formation and perpetuation of the subjectivity of communities and individuals. Embracing knowledge as material, considering its dissemination, movement, points of connection and network potential., the In-Lab asked: who gets to speak, how much of that dialogue is necessary, where does transparency apply, and how is Western universal reason harmful to global justice? Ccore texts were Paranoid vs. Reparative Reading: Or You're so Paranoid I Bet You Think This Essay Is about You by Eve Kosofsky Sedgwick and Cruel Optimism: on Marx, Loss and the Senses by Lauren Berlant. The ideas and knowledge acquired became the material for developing a programme for the Jan van Eyck's community and public.
Participants: Alexis Blake, Ellen Feiss, Toon Fibbe, Ilke Gers, Conny Karlsson Lundgren, Hana Miletićc, Karisa Senavitis, Kym Ward, Katharina Zimmerhackl
Advisors: Bik Van Der Pol
In-Lab—The History of Food in Maastricht
Within the Netherlands, Maastricht is one of the few places known for its food culture, a feat extensively used for tourism marketing by the city and its inhabitants because it is token of their cultural identity. As a group of new arrivals to the city, we were intrigued by all this food-talk and decided to investigate. Our research into the local food culture became a means of getting to know each other and our new surroundings.
Participants: Dario D'Aronco, Sunette Viljoen, FrancoisFrançois Dey, Matylda Krzykowski, Oliver Bulas, Blas Isasi, Roosje Klap, Anne Callahan, Sanne Vaassen, Blaine Western, Cedar Lewisohn, Joris Lindhout 
In-Lab—White Elephant
What is a book and why make one? These basic questions were the starting point for the discussions in the White Elephant. Books are traditionally a means of creating and sharing knowledge; circulation and visibility are therefore essential. Considering the book as a transportable exhibition device, it offers interesting possibilities for the visibility of artistic works, practices and experiments in printed matter that oscillate between 'original' artwork and informational medium. 
The Jan van Eyck has a tradition of publishing and bookmaking, especially focussing on artists' publications. The White Elephant was a space for constant reflection and mutual support; sharing our knowledge and experience about bookmaking and book-design and discussing the possibilities of the Charles Nypels Lab: the Van Eyck print studio. In addition to the meetings, a series of Book Salons were held in the held in the Pierre Kemp Lab: the Van Eyck library. They were organised in collaboration with advisor Susanne Kriemann and librarian Annet Perry-Schoot Uiterkamp.
Participants: Anna Bak, Anne Callahan, Martin La Roche Contreras, Cedar Lewisohn, Hana MiletićHana Miletic, Katharina Zimmerhackl
Advisor: Susanne Kriemann
In-Lab—The Farm
The Farm is an equal and temporary society that is focused on production. The Farm is devoted to the practice of making, discussing and organising art and design through experiment. The Farm can be a holding of any size and take place anywhere. It can be operated by designers, artists, theorists or writers, and in fact, by anyone. Everyone who joins The Farm can use all the harvested knowledge.
Participants: Matylda Krzykowski, Anna Bak and Christophe Clarijs
In-Lab—Writing
Language needs attention. That is the simple conviction behind the Writing In-Lab at the Van Eyck. The In-Lab is defined by what participants bring to the table. In its first year, the In-Lab focused on the question of how to write about art, and then on reflections of the participants' own work. In last year's In-Lab, a lot of fiction emerged that had developed in parallel to the artists' visual practice or as an extension of it.
Participants: Anna Bak, François Dey, Blas Isasi Gutiérrez, Cedar Lewisohn, Joris Lindhout, Hana Miletićc, Karisa Senavitis, Nina Thibo
Advisors: Jurriaan Benschop, Erik Lindner.
In 2013, 7 In-Labs were set up:
Moving Images of Speculation In-Lab: is an artistic-theoretical research In-Lab of the Jan Van Eyck Academie exploring contemporary links between post-cinematic form and finance. Participants: Oliver Bulas, Marcel Dickhage, Filip Van Dingenen, Stefano Faoro, Jan Hoeft, Julia Kul, Sonja Lau, Cathérine Lommée, Valle Medina, Rachel O'Reilly, Vijai Patchineelam, Benjamin Reynolds, Alessandra Saviotti, Cathleen Schuster, Jelena Vesic.
Curatorial Practice and its Translations In-Lab: researches the relations between curatorial practice and critical writing. It rethinks the links between curating and editing – translation of exhibitions into publications and translation of publications into exhibitions. 
Participants: Marcel Dickhage , Stfano Faoro, Sonja Lau, Rachel O'Reilly, Vijai Patchineelam, Cathleen Schuster, Coordinator: Jelena Vesic
EP In-Lab. Fiction as a strategy in contemporary art and design: A semi-fictional conversation*: The EP 'cahier' is the first critically underpinned series of publications that fluidly move between art, design, and architecture. The series creates a discursive platform between popular magazines ("single play") and academic journals ("long play") by introducing the notion of the "extended play" into publishing. Participants: Benjamin Reynolds, Valle Medina, Marcel Dickhage, Cathleen Schuster, Rachel O'Reilly, Sjoerd Westbroek, Esmé Valk, Paul Bailey. Coördinatoren: Ilse van Rijn en Huib Haye van de Werf
Painting In-Lab: is a discussion and production platform for participants with an interest in painting. It is having an ongoing conversation about the attitude of the artist, their ways of working and actual (bodies of) painting. Part of each meeting is dedicated to a critique session in one of the Van Eyck artists' studios. Participants: Ellen De Meutter, Hyojun Hyun, Inga Meldere, Keetje Mans, Thomas I'Anson, Vincent Verhoef en tutor Jurriaan Benschop
Writing In-Lab: in this In-Lab, participants discuss  and critique texts they have written about their visual work. Participants: Cathérine Lommée, Charbel-joseph H. Boutros, Dongyoung Lee, Ellen De Meutter, Esmé Valk, Filip van Dingenen, Hyojun Hyun, Michiel Hilbrink, Rodrigo Hernández, adviseur Jurriaan Benschop en poet-in-residence Erik Lindner
Labin In-Lab is a publishing platform of the Van Eyck participants that extends the presence of Van Eyck practitioners towards the documentation of an unfolding residency experience that continues to impact on participant's work and deals with more focused and specific inquiries into artistic and design practice. Participants: Rodrigo Hernández, Dongyoung Lee, Michiel Hilbrink, Valle Medina, Ben Reynolds, Sonja Lau, Marcel Dickhage, Jan Hoeft, Julia Kul, Rachel O'Reilly, Cathleen Schuster, Vijai Patchineelam, Jelena Vesic. Advisors: Bik van der Pol, Hans Christian Dany, Susanne Kriemann. Coordinators: Dongyoung Lee, Rachel O'Reilly
What If In-Lab: In this In-Lab, the vision and imagination of several participants are linked. The objective is to set up a platform for curious minds across disciplines. Participants: Valle Medina, Benjamin Reynolds, Alessandra Saviotti, Julia Kul. Coordinators: Filip van Dingenen, Oscar Santillan