Caterina van Hemessen Academie
Foundation Hubert van Eyck Academie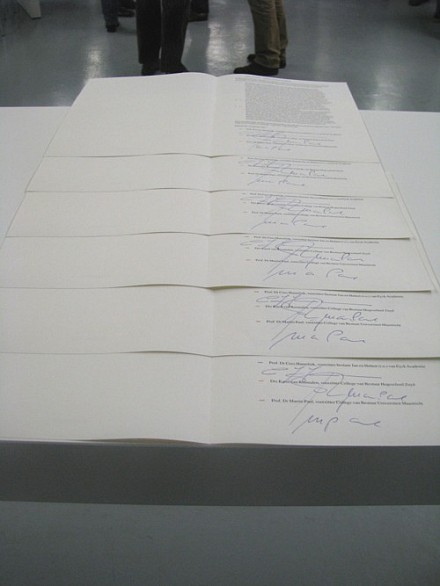 On 25 January, the foundation of the Hubert van Eyck Academie, the educational component of the Van Eyck, and the ensuing intention of the Zuyd Hogeschool, Maastricht University and the Van Eyck to collaborate, was celebrated. This collaboration between the Maastricht Drama Academy, the Academy of Fine Arts and Design, the Maastricht Academy of Music, the faculty of Arts and Social Sciences of Maastricht University and the Jan van Eyck Academie was sealed by the directors of the boards signing a Letter of Intent. The collaboration is mainly geared at the new I-Arts course and various master courses. Mr. Jacques Costongs, alderman of Culture of the city of Maastricht, discussed the importance of this collaboration for the city and the province. This was underlined by the general director of the province of Limburg, mr. Ad de Kroon.  
Photos of this evening can be viewed here. 
Interview with our director Lex ter Braak on radio L1: Listen.