Van Eyck Guesthouses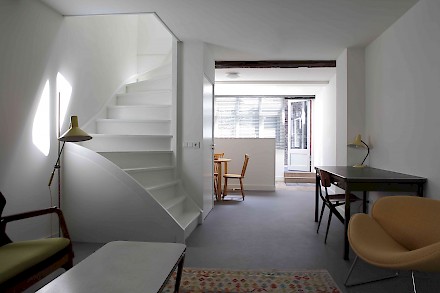 The seven Van Eyck Guesthouses are sober and stylishly furnished apartments for short or extended stays centrally located in two historic buildings in the Jeker quarter of Maastricht. Situated next to the Van Eyck and in the vicinity of several art academies, the university buildings and cultural institutions and with the Vrijthof within walking distance, it is ideally based to visit Maastricht.
Each guesthouse apartment is equipped with a living room with TV and Internet access, a bathroom and a separate bedroom with a double bed and comes with linen and towels.
Besides four apartments of approximately 35 m2, there are three larger (40m2 to 45m2) apartments available. Two apartments have a sunny terrace. The cost per night per apartment amounts to € 77,50 and for the three large apartments € 112,50. A cot can be placed for € 10 extra. An extra bed can be added, but only in the large apartments and costs € 15 extra.
The apartments are also for rent in combination with other services offered by the Van Eyck, such as renting the auditorium, the project space or working in the labs.
Breakfast and lunch is available on weekdays at the café-restaurant of the Van Eyck. Preparing meals in the apartment is limited to a microwave.
(Paid) parking within 10 minutes walking distance at the Academieplein, the Vrijthof car park or alongside the Aldenhofpark.
For more information about the Van Eyck Guesthouses, for reservations and other questions about the services the Van Eyck provides, please contact Van Eyck Services: Anne Vangronsveld.
guesthouses@janvaneyck.nl
+31 43.3503784