Van Eyck Mirror
The (In)comprehensible Government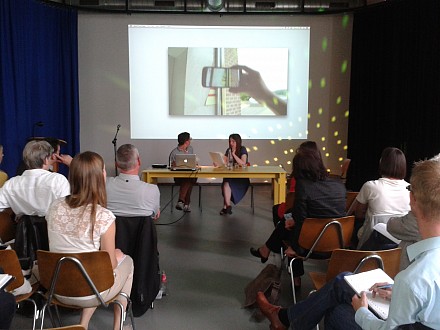 Since the Provinces have lately been pressurized into merging in the near future, it is important to reformulate the legitimacy of the regional authorities. Hence, Van Eyck Mirror initiated an artistic research project that was run by an interdisciplinary team consisting of Van Eyck participants, MA students at Maastricht University and civil servants of the Province of Limburg. This team set out to develop social and cultural products, concepts and services that enhance the visibility and transparency of the regional government. The first symposium and kick-off of the research project was held on 29 October 2013 with speakers: René Bijlmakers (strategic advisor Province of Limburg), Arjan Widlak (director Kafkabrigade), Chris Sigaloff (director Kennisland).
In spring 2014 the project started with its second, concept phase that took the form of an artist-in-residence programme at the "Gouvernement" of the Province of Limburg. In May and June two workshop sessions were held, in which participants of the Van Eyck worked together under the guidance of professionals with diverse backgrounds. Following the brainstorming sessions and master classes they  individually or in collaboration, presented a project to develop new types of social products and services that the provincial government can use to generate more visibility and that testify to their legitimacy.Irene Fortuyn, artist, Head of the departement Man & Leisure of the Design Academy Eindhoven, tutor at KABK Den Haag nd co-founder of LabMinds and Kennisland, a thinktank for social innovation,  led the workshops.
On Thursday 26 June the results of the project 'The (In)comprehensible Government' were presented to the public. The final presentation started of with a talk by Carolina Mano Lopes dos Santos, master student at Maastricht University, who clearly clarified the questions, concepts and ideas discussed in the first phase. The research team that worked during the research phase concluded that there was a shift of the problem from an incomprehensible to an invisible Province. The team of the second phase was advised to work on the issue of (in) visibility.
Ellen Feiss and Toon Fibbe, participants of the Van Eyck, presented the concepts that surfaced during the second phase. They showed an (in) visible exhibition of artworks, background information and concepts of the province as an institution. Besides traces in the Gouvernement, this (in) visible exhibition can be viewed online. The exhibition will evolve as more artists are asked to make a contribution. 
You can find the final report here
Partners:
Province of Limburg
Maastricht University
Kennisland