Van Eyck Mirror
Van Eyck Editions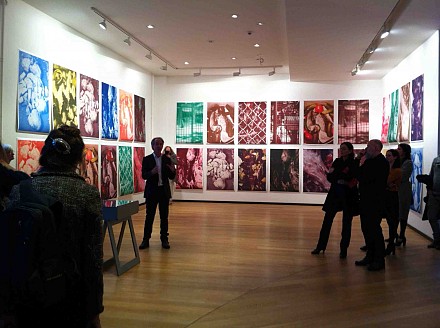 Van Eyck Editions is an artist-in-residence programme that offers a mid-career artist, designer or photographer who is not a participant at the Jan van Eyck Academie the chance to develop a work in one or more of the academy's labs during the time span of a month. Every six months an artist-in-residence will be invited. The ensuing multiple will be part of the collection of Van Eyck Editions and will be sold in a set edition. The Van Eyck is thus starting a valuable collection that consists of things material and immaterial, a collection that represents the potential of the Labs and the creative capital of the Van Eyck.
Photographer Johannes Schwartz was the first artist to be invited by Van Eyck Mirror and set this unique programme into motion.  He worked at the Charles Nypels Lab in September 2013. A collected series of 15 x 24 unique risographs called Schnitt is what ensued from the first artist-in-residence programme. The exhibition Schnitt was set up at the Van Eyck in the month of January 2014.  
Rob Johannesma is the second artist-in-residence invited by Van Eyck Mirror, the project bureau of the Van Eyck. Johannesma worked from mid April to mid May 2014 in both the Charles Nypels Lab and the Pierre Kemp Lab. The result of his residency were shown in the exhibition Shivelights and Shadowtackle, on show in the Van Eyck from 23 Januari - 20 February 2015.