26.05.18 – 25.11.18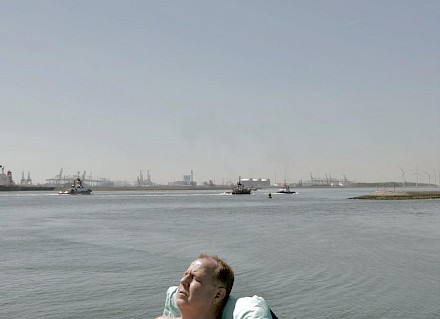 16th International Architecture Exhibition of La Biennale di Venezia
Van Eyck deelnemer Giulio Squillacciotti en Van Eyck alumnus Paolo Patelli nemen samen met Giuditta Vendrame deel aan WORK, BODY, LEISURE, de presentatie in het Nederlandse paviljoen op de 16e Internationale Architectuurtentoonstelling van La Biennale di Venezia, te zien vanaf 26 mei tot 25 november 2018 in de Giardini.
Het Nieuwe Instituut presenteert op de 16e internationale architectuurtentoonstelling van La Biennale di Venezia de Nederlandse bijdrage WORK, BODY, LEISURE. Het Nederlandse paviljoen verkent niet alleen veranderende ideeën over het menselijk lichaam, maar ook ruimtelijke configuraties en leefomstandigheden, die het resultaat zijn van veranderingen op het terrein van arbeidsethos en -condities.
De tentoonstelling, samengesteld door architect en onderzoeker Marina Otero Verzier, omvat bijdragen van een groep architecten, kunstenaars, ontwerpers, historici, muzikanten en theoretici die door de curator en via een aantal open calls zijn geselecteerd. Met deze gezamenlijke inspanning worden nieuwe vormen van creativiteit en verantwoordelijkheid binnen de architectuur aangemoedigd, in antwoord op opkomende automatiseringstechnologieën. Een domein van onderzoek en innovatie waar een kritisch ruimtelijk perspectief nog veelal ontbreekt.
Voor WORK, BODY, LEISURE wordt het Nederlandse paviljoen getransformeerd tot een serie ruimten waarin verschillende thema's in de meerdere bijdragen aan de orde komen.
OVER SHORE LEAVES:
Delving into the invisibility of labor under automation, Shore Leaves offers an entry point to the everyday world of seafarers, when the pace of logistical handling slows down. The video documentation was produced during fieldwork aboard bulk carrier and container cargo ships harbored for loading and unloading in the ports of Rotterdam and Venice, and at the seafarers organizations that in both cities provide practical assistance and support to seafarers of all nationalities. Focusing on the spaces and gestures of this waiting time, the project confronts a reality that is generally concealed. Shore leaves are vital for the health and wellbeing of seafarers and they represent the short moments when sailors can connect with their families and friends. Industry demands for time saving procedures, advanced through port automation, and increased security measures ashore, put this right under pressure. The machinic efficiency in the circulation of the goods on which our economies are highly dependent has a counterpart: while human presence and labor are still indispensable and of infrastructural importance, human bodies strive to adapt to remodeled times and spaces and descend further beneath a threshold of visibility.
Meer informatie:
www.hetnieuweinstituut
www.labiennale.org
Trailer van de film Shore Leaves door Giulio Squillacciotti, Paolo Patelli en Giuditta Vendrame: https://vimeo.com/270980129