13.01.20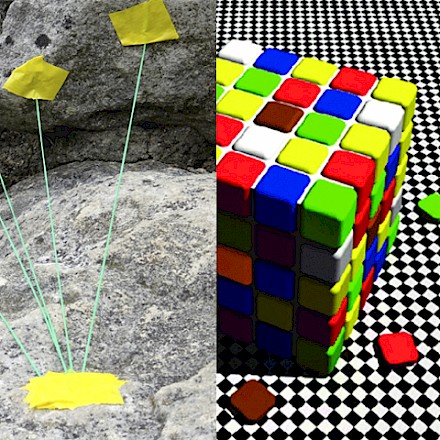 (940) Systemized Digital Contingency - The Conference
(940) Systemized Digital Contingency — The Conference
13 January 2020, 14:00 - 18:30
Meeting Room, Jan van Eyck Academie
Free entrance. 
The Jan van Eyck In-Lab (940) Systemized Digital Contingency invites you to join The Conference - an event during which Femke Snelting, Sonia de Jager and Simone C. Niquille join their forces under the laws of vibrational energy, frequency & movement.
The event is moderated by Delany Boutkan. She is a writer and producer (programs and other public formats) on the basis of her fascination for the economic systems design is produced in.

PROGRAMME

14:00-15:00 
Femke Snelting
Opening Up the Sense of What Might Yet Be
How to stay with the troubles of technology? What affirmative modes of operation can critically engage with contemporary computation and digital infrastructures? Femke brings together references, stories/anecdotes and fragments from ongoing conversations around Constant, Possible Bodies and the Underground Division. Fueled by feminist, queer and anti-colonial activism, these collectives radicalize their continued interest in technology as a way to enlarge spaces for the possible, rather than to stabilize the probable.
Femke Snelting develops projects at the intersection of design, feminism and free software. She has been exploring how digital tools and practices might co-construct each other in various constellations. Femke is member of Constant, a non-profit, artist-run association for art and media based in Brussels. Since 1997, Constant generates performative publishing, curatorial processes, poetic software, experimental research, and educational prototypes in local and international contexts. Together with Jara Rocha, Femke activates Possible Bodies, a collective research project that interrogates the concrete and at the same time fictional entities of bodies in the context of 3D tracking, modelling, and scanning. She co-initiated the design/research team Open Source Publishing (OSP) and, together with Renée Turner and Riek Sijbring, formed De Geuzen - a foundation for multi-visual research. Femke teaches experimental publishing at the Piet Zwart Institute in Rotterdam and advanced performance and scenography studies in Brussels.

15:30-16:30
Sonia de Jager
The Geist in the Machine: 
A Roundabout Investigation of Discreteness in Human and Machine Vision
It could be argued that the visual experience does not consist of sequences of discrete sub-experiences, vision does not feel like it travels from point to point in fragmentary fashion. Even though the saccades our eyes undergo may appear as sequentially discrete to a secondary onlooker, from one's perspective vision is experienced as an uninterrupted flux. And even when one is engaged in perceiving sequences of apparently discrete objects such as letters, the enveloping environment remains non-sequential and non-discrete. Yet, the phenomenon of visual ambiguity—as explored for example by Wittgenstein via the infamous rabbit-duck illusion—can be considered a type of phenomenal paradox in which several interpretations of reality are possible, but phenomenally 'grasping' them requires one switches between the different interpretations in a discrete, sequential manner. The rabbit, the duck and the rabbit-duck (or duck-rabbit) cannot all be perceived at the same time, one is obliged to choose between perceptions. However, underlying this phenomenological interpretation lies an epistemological assumption which reduces the ambiguity of experience to a discrete logic, where a conscious, 'rational' choice between either/or is possible. During this presentation we will explore, via another type of optical illusion involving color perception, that (visual) ambiguity is at the core of most of our experiences. Additionally, even though binary principles underlie the logic of modern computation, new developments in computational vision used to predict the incoming frame(s) in video sequences could also provide new answers to the question of visual ambiguity.

Sonia de Jager is a doctoral candidate at the Erasmus School of Philosophy on the topic of machines, ghosts, grids, rationality and other paradoxes. Prior to this, she studied at Leiden University and at the Gerrit Rietveld Academy. De Jager organizes the annual conference on music and philosophy: Regenerative Feedback (NYC, Rotterdam, CDMX, Bs. As.).

17:00-18:00
Simone C. Niquille
Homeschool
Household robots rely on computer vision to navigate their domestic environment. However, a camera alone does not know what it is looking at. In order to recognise and understand the spaces, objects, and things that it encounters, the robot needs to learn about its future environment. For this purpose, large datasets of 3D files are virtually assembled into model homes. These training datasets pose a set of challenges: where to find representational data on tens of thousands of homes, people's most private space? How to sort objects and spaces into categories; is this a vase or a bowl, or a cup? Each category asks for a different behaviour and context, information that is largely banal to the human being but incredibly complex to teach a robot. Limited to the available data, a training dataset will hardly be able to represent all of reality and ultimately reduce and omit everything that is not recorded. This confusion between models of reality and reality itself has been addressed by scientist and philosopher Alfred Korzybski as 'the map is not the territory'. If the map is not the territory, is the database the home? If the database is not the home, what then are the architectural and bodily consequences of cohabiting with computer vision?
Simone will be screening her recent short film HOMESCHOOL (2019), ensued by an explanation of some of the technology and research behind it. Set within a scenography assembled with the contents of one of the largest training datasets SceneNet RGB-D, the short film HOMESCHOOL makes visible the training data that usually is sealed within the technology. This virtual environment is explored by an unknown first person narrator, learning by seeing, struggling to understand, dwelling in ambiguities. 
Simone C. Niquille is a designer and researcher based in Amsterdam, NL. Her practice technoflesh investigates the representation of identity and the digitisation of biomass in the networked space of appearance. She recently completed the short film HOMESCHOOL on the domestic implications of machine vision as part of the Housing The Human initiative, and is researching the use of digital capture technology for evidence production with the long term project Parametric Truth.
(940) Systemized Digital Contingency is an In-Lab organized by Jan van Eyck participants Audrey Large, Lotte Reimann, Lina AlAmoudi, Maiko Jinushi, and Marjet Zwaans. It is organized around their mutual interest in the intersection between intimacy, the interpersonal exchange of data, sound and image beyond our screens that manifest themselves into different states of matter. 

"A condition partly created by humans but only partly controlled by them, indifferent to anything but movement, energy, rhythm and complication," - Aikens and Steyerl, 2014.  
Top Image : Left: F. Snelting, The Underground Division: Physical LiDAR on fake rocks. Finsbury Park, London (2019); Right: S. de Jager, Purves & Lotto, 2002
Bottom Image : Simone C Niquille/Technoflesh. HOMESCHOOL 2019 (video still). Commissioned by Housing the Human