03.04.16 – 26.06.16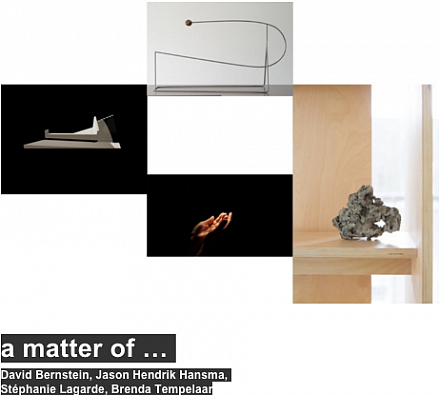 a matter of …
Het Ludwig Forum in Aken focust in een de serie kleine tentoonstellingen onder de noemer Perspektive op de hedendaagse kunstscene in de Euregio. Voor Perspektive 03 werden Van Eyck deelnemers David Bernstein, Jason Hendrik Hansma, Stéphanie Lagarde en Brenda Tempelaar uitgenodigd om werk tentoon te stellen in a matter of... 
Over de tentoonstelling:
Although significant differences are evident, the works of David Bernstein, Jason Hendrik Hansma, Stéphanie Lagarde, and Brenda Tempelaar reveal a shared interest in exploring objects which, to draw on Paul Valéry, may be said to be "more intelligible to view and more mysterious to reflect upon".
Whether artefact or ordinary object, from time immemorial the usual practice has been to try to gain a new perspective from things in the world. It is in this spirit that the four young artists use our all-too-human penchant for fictionalizing life to present us with images and objects which challenge us to break with our entrenched views.
Almost 100 years ago Marcel Duchamp tried to smuggle his Fountain, the urinal turned upside down, into the exhibition space under a false name – this rupturing into its function as an object of use and an artwork ultimately led to the "reversed" thing not being exhibited. As it was then shown after all at Alfred Stieglitz's Gallery 291 in New York – and not at the large show put on by the Society of Independent Artists – the magazine The Blind Man (1917) wrote in its defense: "Whether Mr. Mutt made the fountain with his own hands or not has no importance. He CHOSE it. He took an article of life, placed it so that its useful significance disappeared under the new title and point of view – created a new thought for that object."
Over the last few years a greater interest in our relationship to things in the world is observable. On the one hand, our experience, our (collective) memory, forms the suchness of and the difference between the things we have to deal with. On the other hand however, things and their properties also determine how we see the world. They evoke imagination and speculation. And ultimately, we are – from their point of view – also merely another object in this world.
Curators: Lars Breuer und Holger Otten.
In cooperation with the Van Eyck Academie, Maastricht, and University of Applied Sciences Aachen/Arts and Design.
Parallel opening with the Neuer Aachener Kunstverein NAK
Opening: Zaterdag 2 april 2016, 18:00
03.04.16–26.06.16
Platform Aachen
Perspective 03
Meer info:
Ludwig Forum Aachen