13.12.14 – 09.01.15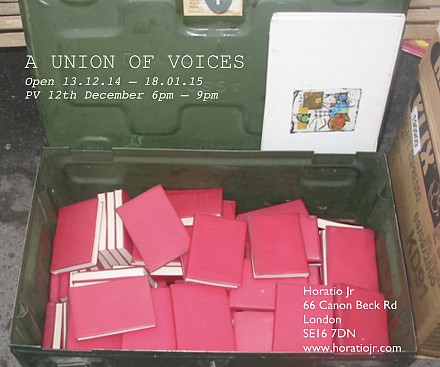 A Union of Voices
Van Eyck deelnemers Cedar Lewisohn, Anton Stuckardt en Andrea di Serego Alighieri, tonen werk in de groepstentoonstelling A Union of Voices in Horatio Junior Gallery London 13 december 2014 – 18 januari 2015 
over de tentoonstelling:
A Union of Voices unites a group of 108 artists through a framework that is structured around the concept of "community". The exhibition explores the human and primeval desire to want to belong to something greater than one's self. This wanting to belong manifests itself within all communities, growing, responding and developing, uniting all within it. For the exhibition each artist has been asked to responded to the concept, bringing their own set of values and asserting their own position and identity. 

At the exhibitions core is the concept of building a community and this is reflected in the process of selecting each artist, as well as what each artist will be asked to submit. The curatorial approach creates a foundation group of 54 artists to form the basis of the community, who then each propose one other artist to participate in the exhibition, thus expanding and ultimately doubling the community over a geographically broad area. 
The book was chosen because of its role as an effective tool of communication and because of the undiscriminating nature of its content. This allows all participants to freely reflect the depth of their artistic practices and as a whole create a dynamic and artistically varied library. 
A Union of Voices proposes a greater shared function beyond that of the individual. The nature of the chain coupled with the ethos behind the book allows for a transparent manufactured community. Consequently, the library allows an engagement with the notions of the individual existing within a community.