25.04.15 – 13.06.15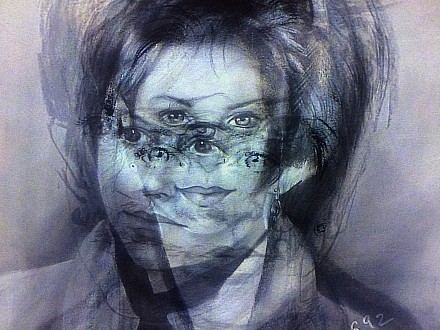 Barbara Visser - Manual/2: The Patient Artist
Van Eyck adviseur Barbara Visser toont nieuwe film in Kunstraum London:
Manual/2: The Patient Artist is a new film commission for Kunstraum by Dutch artist Barbara Visser.
Through diverse approaches over the past 25 years, Visser has interrogated what it is to have artistic agency, reconfiguring the structures which surround us in contemporary art. Central to Manual/2: The Patient Artist is the question of how an artist deals with their own history. For this new work Visser revisited four of her iconic works from the nineties that address the identity of the artist: Portrait of the Artist (1992), Ars Futura (1994), Gimines (1995) and Lecture with Actress (1997).
Visser rarely considers the form which a work takes to be conclusive; at one point they have a certain form and five or ten years later they appear differently. Treating these key works as building blocks, Manual/2: The Patient Artist uses Visser's past practice as material to be reworked and sampled. Here Visser has collaborated with a writer - Emily LaBarge - to recreate the accounts with more emphasis on their power as stories than their historical accuracy. 
Visser's project for Kunstraum forms part of the artist's research into psychological aid since the 1950s, incorporating as one of the narrative voices in the film her own file from the Psychoanalytical Institute - reading the descriptions different therapists have written about her as a form of fiction. 
Working since the early nineties, Barbara Visser has exhibited in the foremost institutions in the Netherlands and in many major international exhibitions. Projects in the Netherlands include: De Appel, Amsterdam; Stedelijk Museum, Amsterdam; Witte de With, Rotterdam; De Hallen, Haarlem; and Museum Boijmans Van Beuningen, Rotterdam. International exposure has prominently included the Dutch Pavilion at the Venice Biennale in 2011; Manifesta 7, Trento; MACBA, Barcelona; Bienal de Sao Paulo; Secession, Vienna; MAMCO, Geneve; and Frankfurter Kunstverein.
Exhibition: 25 April – 13 June 2015 
Opens Friday 24 April, 6.30 - 9pm 
Image credit: Barbara Visser, video still from Manual/ 2: The Patient Artist, 2015.