18.05.19 – 15.09.19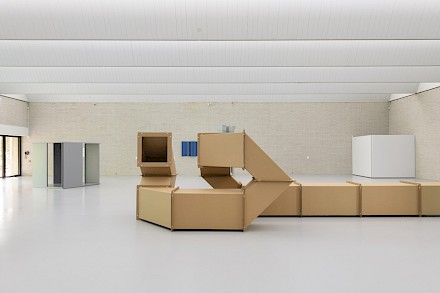 Charlotte Posenenske. Lexicon of Infinite Movement
Together with Suzanne Wallinga, curator and the academy's alumna Eloise Sweetman has curated an exhibition Charlotte Posenenske. Lexicon of Infinite Movement. The show features works by our alumni Yeb Wiersma and Ruth Buchanan and is on view until September 15 at Kröller-Müller Museum in Otterlo. 
Opening Hours
Tuesday - Sunday
10:00 - 17:00
Disappointed in the social scope of art, Charlotte Posenenske left the art world in 1968 to study sociology. Her work and views remain however points of reference for younger generations of artists. In the Kröller-Müller Museum, Ruth Buchanan (New Plymouth, 1980) and Yeb Wiersma (Groningen, 1973) react to the work of Charlotte Posenenske. Both artists investigate in their work the boundary between art and daily life. Ruth Buchanan creates a meeting of art, a performer and the public through an installation which can be seen in different spaces in the museum. Yeb Wiersma develops a new sound-work, in which she questions and disrupts the social views of Charlotte Posenenske.
SUZANNE WALLINGA 
is a freelance curator. She is the co-founder and director of A Tale of a Tub in Rotterdam - a 'testing-ground' where artists and other (art)professionals get the time and space to do research and engage themselves in current social issues. 
ELOISE SWEETMAN
is a freelance curator, writer and teacher who investigates different forms of exchange, which results in exhibitions, publications and symposia. She is codirector of the exhibition space Shimmer in Rotterdam and currently teaches theory at the Gerrit Rietveld Academie in Amsterdam.
CHARLOTTE POSENENSKE
(Wiesbaden, 1930-Frankfurt am Main, 1985) is one of the most important German minimalists. Her works consist of series in an unlimited edition. According to a number of rules, they can be made and repeated – also by others – and combined with each other. With her radical and 'democratic' ideas about material, production and authorship, Charlotte Posenenske influenced and shaped conceptual and minimalist art of the sixties.
RUTH BUCHANAN's
work is primarily concerned with the different systems that play a role in the production and dissemination of culture, such as libraries, collections as well as artistic practices. Buchanan gives the meeting a central place in her work and she strives to strategically make visible and observable the social and political parameters of the moment. 
YEB WIERSMA's 
work is often transient in nature and is primarily physically expressed in scripts and choreographies. In her work she regularly investigates what motivates or moves people when they come together. Wiersma creates sensory and imaginary conditions which allow scope for meetings with the unknown, the other and which at the same time question the relation between the past and the present, fact and fiction, here and there, culture and nature. 
More information here.
Image (by Marjon Gemmeke): Lexicon of Infinite Movement, Kröller-Müller Museum.
Courtesy Burkhard Brunn, Estate of Charlotte Posenenske & Mehdi Chouakri Gallery