23.05.14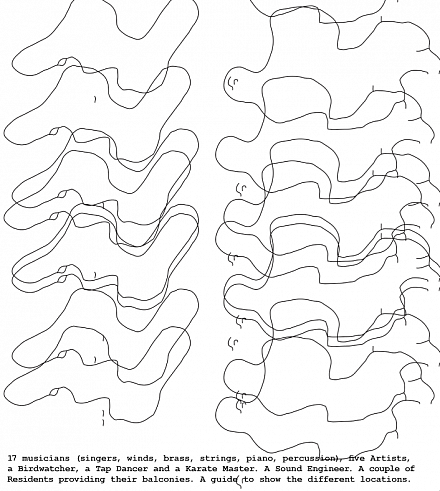 CONTEMP+
CONTEMP+  brengt innovatieve samenwerkingsprojecten van hedendaagse componisten van het conservatorium van Maastricht en kunstenaars van de Jan Van Eyck Academie.
Op vrijdag 23 mei van 19.00 tot 23.00 uur wordt een parade van muzikanten door de stad, visuals en elektronische muziek, installaties met live muziek en hedendaagse en klassieke muziekconcerten gepresenteerd.
Locatie: Van Eyck en het conservatorium Maastricht.
Entree: gratis
Samenwerkingen:
'To carry The wind', Oscar Santillan en Eliana Cruz
'De verhuizing', François Dey en Aram Kamali:
Een 'rondleiding' tussen het Conservatorium van Maastricht en de Van Eyck.
Een compositie om naar te luisteren tijdens een wandeling langs de verschillende ruimtes.
Iedereen van harte welkom; start in de inkomhal van het Conservatorium (Bonnefantenstraat 15) om exact 21.00 uur.
'My last ten facebook posts', Cedar Lewisohn en Marc Alberto
'Artist and curator Cedar Lewisohn and contemporary musician Marc Alberto have collaborated to make a new work which crosses the disciplines of visual art and music. As both practitioners are interested in systems of production in their work, they jointly come up with the concept of presenting some aspect of their lives through a methodological use of  language and sound. To enable this process, Cedar first sent Marc a selection of his last ten updates from the social media website Facebook. Marc then translated these texts into soundscapes with the aid of human voice, traditional instruments and electronic collage. The text themselves form an arbitrary  "anti poetry",  but also provide some sort of distilled yet intimate portrait of the author. The location for the presentation of the piece is the functioning office of the deputy director of the Van Eyck Academy. This loaded location, adds another layer of removed intimacy to the work. The space is public and private at the same time, thus offering the viewer further space for speculation while listening to the sound composition.'
'Surface for three female voices', Dario Daronco en Egita Znutina, Judith Sepulchre, Rena Silcher:
materiaal: three female singers, textile.
duur: 20 / 30 minutes
locatie: Van Eyck
deelnemers: Egita Znutina, Judith Sepulchre, Rena Silcher
auteur: Dario D'Aronco
"Three voices are singing 1 pitch only all together in order to create an infinity duration, every time one of them has to breath, the others are still singing.
The breaks for the breathing create a particular structure that makes the voices fading bit by bit till the silence."
Originele composities:
'A wave and a drop', Joep van Leeuwen
'Prosmony' (expectation), Alexis Gkonis
'A graveyard of broken statues', Wingel Perez
' Waves4 ', Aram Kamali Sarvestani
'Apposition 1 and 2',  Mateu Malondra
Live muziek: 
Free Jazz: Nicola Hein Quartet
Klassiek: Vasilis Mantoudis Brass Ensemble, Joanna Cieslak: Shostakovich Quintett: 'Piano Quintett Op.57', Egita Znutina 'Three irish folk settings'