06.02.15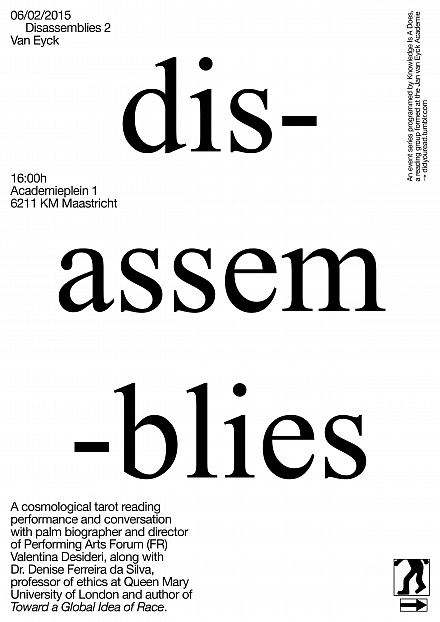 DIS—AS—SEM—BLIES
Disassemblies_02: 06 February at 16:00 starting at Jan van Eyck Academie.
A cosmological tarot reading performance and conversation is planned. This intimate afternoon gathering is taking place at an undisclosed location that we can walk to, from the front doors of the Jan van Eyck building. Our guest cosmologists, both studying reciprocal knowledge transfer, will be the palm biographer and director of Performing Arts Forum in France, Valentina Desideri along with Dr. Denise Ferreira da Silva, professor of ethics at Queen Mary, University of London and author of, most recently, Toward a Global Idea of Race (University of Minnesota Press, 2007)
The In-Lab and reading group, Knowledge Is A Does, is interested in the formation and perpetuation of the subjectivity of communities/individuals. We are embracing knowledge as material, considering its dissemination, movement, points of connection and network potential. We ask: who gets to speak, what transparency covers or how much that dialogue is necessary, how Western universal reason is corruptive to global justice.
Participants: Alexis Blake, Ellen Feiss,Toon Fibbe, Ilke Gers, Conny Karlsson Lundgren, Hana Miletic, Karisa Senavitis, Kym Ward & Katharina Zimmerhackl.
Advisors: Bik Van Der Pol
DIS—AS—SEM—BLIES
Over the course of several months we'll cohabit places around Maastricht as a way to open the opportunity for new audiences and participation. It is an experiment in how to create random temporarily charged spaces for various bodies to approach each other.
Disassemblies_01: 31 January at B32 Artspace
with performances by La Frénétick and STIKSTOF
short film screenings by Conny Karlsson Lundgren and Sara Jordenö & Twiggy Pucci Garçon
poetry reading by Lisa Robertson
DJ set by YouTube Lads