11.04.19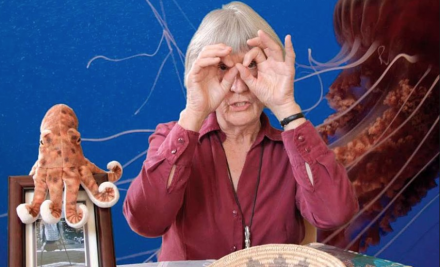 Donna Haraway: Story Telling for Earthly Survival
On Thursday 11th of April filmmaker Fabrizio Terranova is our guest at the Jan van Eyck Academie. His film Donna Haraway: Story Telling for Earthly Survival will be screened at 18:30 in the auditorium, afterwards curator and researcher Daniel Blanga Gubbay will talk to Fabrizio Terranova about the film and his practice.
All welcome to join the screening and the discussion!
DONNA HARAWAY: STORY TELLING FOR EARTHLY SURVIVAL
Filmmaker Fabrizio Terranova visited feminist and sociologist Donna Haraway at her home in California, living with her – almost literally, for a few weeks, and there he produced a quirky film portrait. Terranova allowed Haraway to speak in her own environment, using attractive staging that emphasised the playful, cerebral sensitivity of the scientist. The result is a rare, candid, intellectual portrait of a highly original thinker. Haraway's words and discourses about the artificial construction of nature inevitably exceed and echo beyond the frame of the screen.
BIO
DONNA HARAWAY is an American Professor Emerita in the History of Consciousness Department and Feminist Studies Department at the University of California, Santa Cruz, United States. She is a prominent scholar in the field of science and technology studies, described in the early 1990s as a "feminist, rather loosely a postmodernist".[2] Haraway is the author of numerous foundational books and essays that bring together questions of science and feminism, such as "A Cyborg Manifesto: Science, Technology, and Socialist-Feminism in the Late Twentieth Century" (1985) and "Situated Knowledges: The Science Question in Feminism and the Privilege of Partial Perspective" (1988).[3][4] She is also a leading scholar in contemporary ecofeminism, associated with post-humanism and new materialism movements.Her work criticizes anthropocentrism, emphasizes the self-organizing powers of nonhuman processes, and explores dissonant relations between those processes and cultural practices, rethinking sources of ethics. (Wikipedia)
FABRIZIO TERRANOVA, is a Brussels based film-maker, activist, dramaturge, and teacher at erg (École de recherche graphique) in Brussels, where he launched and co-runs the master's programme in Récits et expérimentation/Narration spéculative (Narrations and experimentation/Speculative narration). Terranova is the author of Josée Andrei, An Insane Portrait, an experimental documentary that was turned into a book published by Les Editions du souffle. He is also a founding member of DingDingDong – an institute to jointly improve knowledge about Huntington's disease. He has recently published the article Les Enfants du compost   in the joint publication Gestes spéculatifs.
DANIEL BLANGA GUBBAY is one of the three directors of Kunstenfestivaldesarts in Brussels, Belgium.  He is a curator in performance arts and researcher. He is the initiator and curator of Aleppo, a platform for public programs through theory and artistic interventions. Among the curated programs: The Second Nature (Riga, 2017); W.E. (Brussels 2017); Nature (Brussels 2016); Black Market (Brussels 2016); The School of Exceptions (Santarcangelo 2016). He works as programmer for the Kunstenfestivaldesarts in Brussels. He is part of the curatorial board for LiveWorks (Centrale Fies). He teaches at the Académie Royale de Beaux Arts in Brussels, directing the performance and choreography department, and lecture regularly abroad. Among some recent presentations Dance Under Cover of a Fictional Rhythm (2018, Sharjah, UAE); The Movement as Living Non-Body (2018, Movement Research, NY); Knowing the Unknown (2017, Museum of Impossible Forms, Helsinki); The Möbius Strip, On Fictional Institutions, (2017, Buda, Kortrijk); and Prophecies Without Content (American University of Beirut).