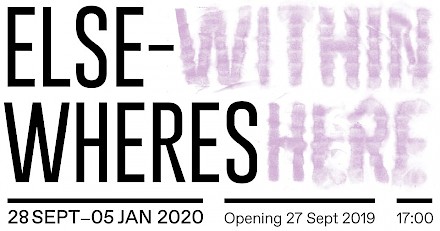 Elsewheres Within Here
From 28 September 2019 - 5 January 2020, the Jan van Eyck Academie's former artists-in-residence Aram Lee and Sissel Marie Tonn are showcasing their work in an exhibition Elsewheres Within Here at Framer Framed, curated by Jo-Lene Ong.
OPENING: 17:00, 27 September 
Location: Oranje-Vrijstaatkade 71, Amsterdam 1093 KS
Curator Jo-Lene Ong refers to knowledge and languages of the region she comes from, by framing the exhibition through the Malay word 'tanah-air'; a term that is similar to the notion of 'homeland' but also connects with notions of both land (tanah) and water (air), thus suggesting a more elemental and fluid sense of belonging. Elsewheres Within Here investigates what we welcome, refuse, or overlook in marking the boundaries of spaces we call 'home' – our bodies, houses, and countries. The works gather stories around errant movements of plants, animals, objects, and symbols across different cultures and times, and through unexpected intimacies.
The exhibition features works by 11 artists all based in the Netherlands: Mahraneh Atashi, Milena Bonilla, Irene de Craen, Rumiko Hagiwara, Aram Lee, Arvo Leo, Natasha Papadopoulou, Thomas Swinkels, Remco Torenbosch, Sissel Marie Tonn, Marieke Zwart.