25.11.15 – 16.01.16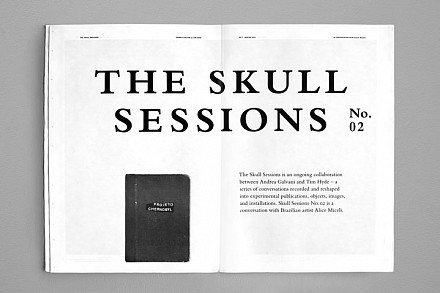 Fotos contam Fatos
Van Eyck deelnemer Alice Miceli toont werk in de groepstentoonstelling Fotos contam Fatos in Galeria Vermelho in Sao Paulo, Brazilië ,t/m 16.01.2016.
Over:
Fotos contam Fato is curated by Denise Gadelha and shows works by over 50 artists, including Alice Miceli, Bruno Vilela, Cao Guimaraes, Carlos Mélo, Gisela Motta and Leandro Lima, Ícaro Lira, João Castilho, Jonathas de Andrade, Marcelo Moscheta, Marilá Dardot, Mayana Redin, Michel Zózimo, Pedro Motta, Roberto Bellini, Romy Pocztaruk, Rosangela Rennó, Vanderlei Lopes and Washington Silveira.
Image: cover of the publication "The Skull Sessions N.02", published by the Skull Sessions in New York, by Alice Miceli, Tim Hyde and Andrea Galvani, which is included in the show.
https://workdocumentation.files.wordpress.com/2014/03/l_miceli015.pdf