13.12.17 – 26.01.18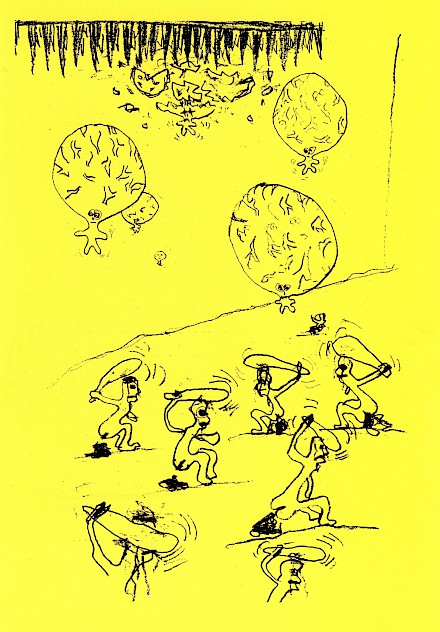 I Shall Escape by Dawn
Niemand wist met zekerheid te zeggen wanneer ze het eiland hadden verlaten of hoe lang ze daar hadden geleefd. Wat van hun samenzijn restte was de tuin en een verzameling van hun werk. Totems wellicht, die een voorbije tijd eren, of iconen van een onmogelijke tijd die in het vooruitschiet ligt. Hun vertrek lijkt plotseling te zijn geweest. Alsof zij voor een specifieke situatie zijn gevlucht, waaruit zij vervolgens weer ontsnapten. Naar dit stuk land, in deze werken, in een virtueel rijk van beide. Escapisme als een poging om de botsing tussen studie en productie versus kapitaal te doorbreken. De achterpoort staat open om binnen te treden en getuige te zijn.
I Shall Escape by Dawn (Seizoen 1) is een groepstentoonstelling in vijf afleveringen met nieuw werk en publieke events in een specifieke setting van Van Eyck deelnemers James Gregory Atkinson, Lotte Meret Effinger, Rodrigo Red Sandoval, en Sharon Van Overmeiren en Marco Buetikofer.
TENTOONSTELLING
13 december 2017 – 26 januari 2018
Ma–vrij 9.00 –17.00 uur
PUBLIC EVENTS
21 december, 9 en 18 januari. Seizoensfinale op 26 januari
Gesloten van 25.12.2017 - 05.01.2018
 
13.12.2017
SEASON I: SEASON PREMIERE
EPISODE 1 (MARCO BUETIKOFER)
The glasshouse hosting the virtual last view onto how it was then. The last version of this site as a reserve. The speed of perception in this other reality is what is left of the utility of movement as it was then. As an animated rendition of a specific time and place, neither time nor progression exists here. It is continuous and still at the same time.
SEASON I: EPISODE 1 (RODRIGO RED SANDOVAL)
The Roadrunner is the symbol of the impossible weight of industrial times. Having always been on the straight rail of progress, now its carriage has rolled too far and splatters at the end of its rigid course. The abrupt halt seeming comic in its ordinariness. Its full weight still intact.
21.12.2017
SEASON I: EPISODE 2 (LOTTE MERET EFFINGER)
The hides never saturate. They have been strung up to announce the shedding and the permanent transformation. Revealing the template of the living carcass with the stories of uncertain, ominous formations.
SEASON I: EPISODE 2 SPECIAL, DIRECTOR'S CUT
Artist Talk: James Gregory Atkinson, Lotte Meret Effinger, Rodrigo Red Sandoval, Sharon Van Overmeiren
17:30 – 19:00
Location: Jac. P. Thijsse Lab – garden
09.01.2018
SEASON I: EPISODE 3 (SHARON VAN OVERMEIREN)
The figureheads are uncertain. Unlike gods, they are rooted into the soil by the fierce stakes that hold them. Reminiscent of a different material past, they oversee the grounds and the air. Each facial gesture certain of its powers, then and still today. Yet their translucence is otherworldly, making them the supernatural controllers of these grounds.
SEASON I: EPISODE 3 SPIN-OFF (ALEXANDRA PHILLIPS)
Their escape is celebrated once a year by raising the Roadrunner symbolically towards the sky. In this ceremony the lighter substitute is hung from the iron beams and pummeled with sticks accompanied by songs of the wanderlust spirit. When finally broken, the rewards crackle down onto the ground. They induce the sense of sweet release.
18:00 – 19:30
Location: Jac. P. Thijsse Lab – garden
 
18.01.2018

SEASON I: EPISODE 4 (JAMES GREGORY ATKINSON)
As the aesthetics of resistance adapt the language of objectified cultural capital, the oversized steel choker honors its original genesis of dissidence as it traverses subculture into the mainstream. The material quality is timeless, yet also prepared to transform into other currencies. Its meaning is layered with the complexities of socio-cultural norms, and the promiscuity of both.
SEASON I: EPISODE 4 SPIN-OFF (ANDREA EVA GYORI)
The sense of touch and corporeality nearly escaped with them, but good fortune had kept the resonance of the tactility of these both lingering. To be awoken during this collective exercise in movement, pose and trace.
17:30 – 20:00
Location: Jac. P. Thijsse Lab
26.01.2018
SEASON I: EPISODE 5 SEASON FINALE (JAMES GREGORY ATKINSON, MARCO BUETIKOFER, LOTTE MERET EFFINGER, SHARON VAN OVERMEIEREN, RODRIGO RED SANDOVAL AND DJ TECTURE)
A minimal techno live set will set the beat to honour the human capital and limitless value of nightlife. In the night we find influences and contributions for the development of culture. We move as the politics of a city putting stamps on culture.
This evening, marking the completion of the season and all its episodes will mean the climax of revisiting their escape by dawn, until the dawn….

17:30 – 22:00
Location: Jac. P. Thijsse Lab – garden
Image: Paul Philipp Heinze