27.11.15 – 09.01.16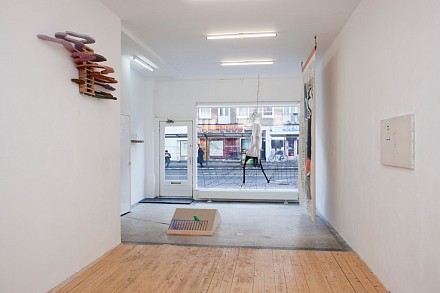 I wished I never kissed that frog
Van Eyck deelnemer Daniel Jacoby neemt deel aan de groepstentoonstelling I wished I never kissed that frog bij Jeanine Hofland galerie, Amsterdam
'Your prince's crown 
Cracks and falls down 
Your castle hollow and cold 
You've wandered so far 
From the person you are 
Let go brother, let go 
Cause now we all know'

(The Frog Prince, Keane, 2006)

"I Wish I Never Kissed That Frog" could be a sentence that we use if something that seemed to be just perfect actually turned out to be our worst nightmare. The question is how this could have happened and where it went wrong. Was it something out of our control or can we blame ourselves for this change? 
It is this question that we use as starting point of this exhibition that primarily revolves around fairy tales and misreadings of the image and materials. 
Invited artists; Artun Alaska Arasli, Matea Bakula, Catherine Biocca, Kasper Bosmans, Liz Craft, Oscar Enberg, Daniel Jacoby, Helen Johnson, Daniel V. Keller and Lucy Stein.
27 november 2015 — 23 januari 2016