25.01.17 – 05.02.17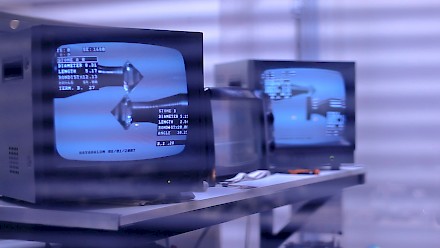 IFFR 2017
De korte film the I mine van Van Eyck alumnus Emilio Moreno is geselecteerd voor de officiele selectie van het International Film Festival Rotterdam (IFFR) 2017. De film wordt getoond tijdens het festival (25.01-05.02).
Teaser: https://vimeo.com/197110512
Synopsis:
The first form of history is the story you tell yourself. In the I mine paleo-anthropologists dig for our ancestors while miners dig for diamonds. At the same time, the entries of a historian's diary reveal his personal digging for what he considers the most valuable diamond: the 'self '. the I mine is a poetic lm about history-writing with extraordinary characters in search of a voice: '...imagine a life in which no words articulate your thoughts.'
More about the I mine:
John P. Roquentin's diary entries guide us through his own struggle while he writes a history book: the biography of a woman who revolutionize the world of auctions. Roquentin is confused, he not only doubts knowing who he is, but also wonders about who the woman really was, what her real 'I' was, beyond the collection of data that Roquentin organizes in chapters. e historian re ects about the language of history and about the writing process involved in the construction of the psychological 'I'.
the I mine takes us to the South African region known as the 'Cradle of Human Kind', an area where several species of human predecessors have been found during the last century. As an example, the most recent discovery took place in 2013, when thousands of fossil remains belonging to an unknown hominid were found. is and other discoveries have been historically connected to the rich presence of precious metals in that area. Because of this, the lm weaves images of those who dig in search of fossils that help us understanding who we are with images recorded 800 meters underground, in the mine where some of the most valuable diamonds in the world have been found. Di erent notions of value materialize as rocks – gemstones or fossils – in this area. Meanwhile, Roquentin wonders: Is the self a crystal clear gemstone covered by layers of writing and rewriting? 
About Emilio Moreno:
Emilio Moreno (Ávila, España, 1980) is an artist interested in the biography of objects, gestures and words. His practice investigates di erent notions of value and the realms of experience from which cultural values emerge. Moreno graduated in English Philology before he completed his MFA in photography and his MFA in artistic research. Probably because of Moreno's background in language and literature studies, both his lms Stone Acrobatics (2015) and the I mine (2017) investigate, among other things, the modes of construction of a narrative and the relationship between history and stories. e essay format is relevant in Moreno's practice either during the research process or as the nal result of a project.
Moreno's work has recently been shown at Open Studios Jan Van Eyck Academie, Maastricht, de Appel arts centre, Amsterdam, Galerija Miroslav Kraljevic, Zagreb, Instituto Cervantes New York, South African National Gallery, Cape Town, Onomatopee/Van Abbemuseum, Eindhoven and CASCO, Utrecht.