19.11.18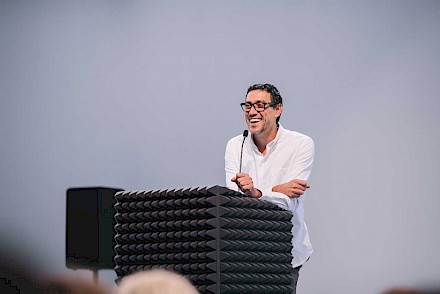 Köken Ergun
In november is kunstenaar en lid van het After the Archive? initiatief Köken Ergun te gast in de academie. Op maandag 19 november om 17.30 uur geeft hij een publieke presentatie over zijn werk in het auditorium van de Van Eyck.
Iedereen van harte welkom 

OVER
Köken Ergun is an Istanbul based artist working in film and installation which often deal with communities that are not known to a greater public and the importance of ritual in such groups. Ergun's preoccupations are based on forms of contemporary rituals and celebrations, religious or secular, through events such as national holidays, beauty contests, world fairs and olympics. His recent works focused on nation-building model. He is a member of the After the Archive? initiative. After the Archive? focuses on the notion and problematics of archives not only in Turkey but also in a global context. As an independent and mobile initiative, After the Archive? organizes talks and workshops with people and institutions who make and preserve archives. Ergun's talk will investigate and discuss the importance and role of archives, engagement in a artistic research and collaboration with ethnographers, historians and sociologists to constitute the current political situation.
Köken Ergun (Istanbul, 1976) studied acting at Istanbul University, completed his study in Ancient Greek Literature at King's College London and obtained a Master in Art History from Istanbul Bilgi University. After working with American theater director Robert Wilson, Ergun has been focusing on video and film. His video works have been part of international exhibitions at Documenta 14, Palais de Tokyo, Garage Museum of Contemporary Art, Stedelijk Museum Bureau Amsterdam, Kiasma, Digital ArtLab Tel Aviv, Casino Luxembourg, Protocinema, SALT and Kunsthalle Winterthur. He won several awards for his films, including a Tiger Award for Short Film at Rotterdam Film Festival (2007) and Special Mention Prize at Berlin International Film Festival (2013). His works are also included in the collection displayed for public at Centre Pompidou, the National Museum of Contemporary Art, Athens and Kadist Art Foundation.
Photo by A. Donnikov © Garage Museum of Contemporary Art, Moscow