19.06.15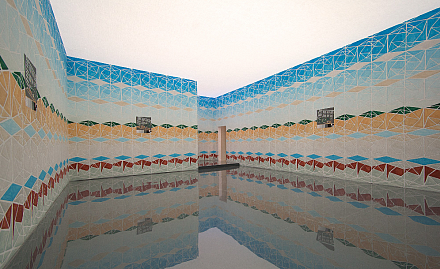 Komt hier aan deze gele vlaktes
For the 30th edition of Probe, Suze May Sho presents Komt Hier Aan Deze Gele Vlaktes (Come Unto These Yellow Sands), by Van Eyck participant Navine G. Khan-Dossos.  
Navine G. Khan-Dossos redefined the walls of the 6,6m3 exhibition space of Probe with her signature geometric wall paintings. Probe is an online-based exhibition space by art-initiative Suze May Sho. A virtual space where every 2-months artists from different disciplines, are invited to research their own practice within a 6,6m3 real space. The scaled test-lab challenges artists to rethink their working methods. Albeit a physical space, Probe is only accessible on the Internet. The registration of the exhibition is the exhibition.
About Navine G. Khan-Dossos (UK, 1982)
With a background in various fields, including History of Art at Cambridge University, Arabic at Kuwait University, Islamic Art at the Prince's School of Traditional Art in London, and a MA in Fine Art from Chelsea College of Art & Design, London, Khan-Dossos' approach to her research is rooted in a traditionally 'western' History of Art education whilst her painting is based on a rigorous training in the philosophy and crafts of Islamic art. Her interests include Orientalism in the digital realm, geometry as information and decoration, image calibration, and Aniconism in contemporary culture. For Komt Hier Aan Deze Gele Vlaktes her departure point has been the Veluwe sand drifts on the outskirts of Arnhem, home of Probe. The title is a line from Shakespeare's The Tempest, and paying homage to the painter Richard Dadd.
To accompany the launch of Komt Hier Aan Deze Gele Vlaktes, Suze May Sho has invited art-historian Nanda Jansen, (currently at Atelier Holsboer Paris for a research-residency) to elaborate on Khan-Dossos' work. Her textual thoughts are transformed into a visual essay by designers Catalogtree. Both the exhibition as well as the visual essay can be found on the website.