06.06.14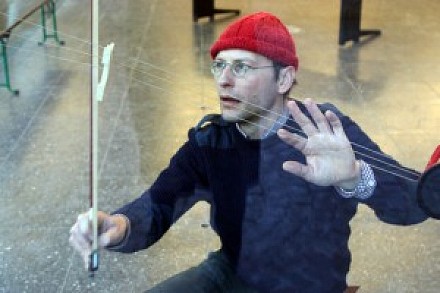 Let us talk sound-wise - Kaspar König
Let us talk sound-wise.
or how your environment becomes the instrument
  
In this talk, artist Kaspar König will present sound-works that include the environment as a player. He will talk about the meaning of hearing natural phenomena in cities and nature. Since humans are making a world of noise, they also want the opposite, quality sound in their (natural) environment. Noise pollution has been present since the industrial age and has inspired composers and artist that work sound-wise.
Nowadays, sound (art) is becoming mainstream, even sound-graffiti is spreading. However it is still a special niche of the world since we cannot close our ears as we can with our eyes.
Within this bandwidth, an euregional project emerged named Landscape Opera by stichting Ragen. This talk will explain how the Opera and the landscape can bring quality to your ears by using the landscape as input for musical and dramaturgical finesse and last but not least: how you can become part of it.
The Landscape Opera is a project planned for 2015-2017 and is a way to re-embody the environment with historical facts & stories, theater & dance, as well as the resonance re-arranged or in situ.
 Kaspar König is a transdisciplinary artist with a focus on the embedding of the context into the project, concert or workshop. He has a Master degree in Sound art and Composition from the Conservatory in Mainz and a degree in Industrial Design from Berlin UdK. He works since 1999 with sustainable design, sound & performance and works since 2012 at the University of the Arts in Zürich. He creates real inventions for the eyes, ears and other senses using recycling techniques and simple systems to make social sculptures and perform acoustic and visual surprises. He also organizes workshops & exhibitions, artist in recidencies and installations. He is initiator of the "artspace rondeel", "ARM.NU","OHP" and non-profit organization "stichting de vier koningen" for catalyzing culture.
Visit the website www.kasparkoenig.com for more information.